Black females lack leadership opportunities
JAZELLE HUNT | 10/9/2014, 8:20 a.m. | Updated on 10/10/2014, 1:31 p.m.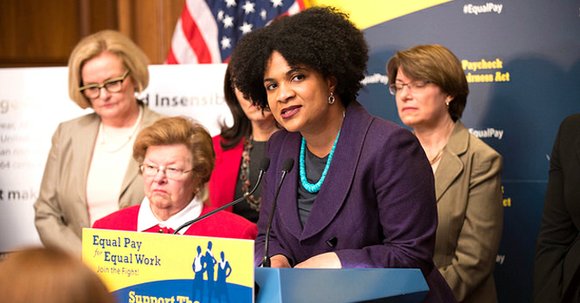 "When I saw the data I said, okay, the internal tools are there," Graves said. "So if [Black girls] have support – from educators, from community members, from family – to show leadership, to be engaged in the sorts of activities that foster leadership, then you'll have everything connected up."
Teacher attitudes are a large factor in the gap between Black girls' potential and Black women's realities.
"The intersection of racial and gender stereotypes has a significant impact on discipline rates for African American girls, likely due in part to bias in the exercise of discretion by teachers and administrators," the report reads. "Ultimately, educators' perceptions of African American young women … undermine[s] their potential for success."
The National Education Association, the nation's largest union representing public school education professionals, has set out to close the leadership gap for all girls.
Last week they released a report based on a survey of nearly 1,000 NEA members. Researchers found that teachers generally hold an "egalitarian" view of leadership and the skills and character it requires. They also see that gender affects their students' pursuit of leadership roles, with girls tending to seek leadership in English and language spheres (if at all), and boys tending to seek opportunities in sports, STEM and student government.
The report also uncovered subtle gender bias among these same educators, who were unaware the survey was about gender until the end of it.
"[The finding] suggests that even well-meaning, highly skilled, and deeply committed educators may hold and act on gender stereotypes," the NEA findings read. "Research shows that even individuals who may express gender-egalitarian beliefs can still hold stereotypical beliefs at an unconscious level, and those unconscious beliefs may influence our behavior more than our explicitly held beliefs simply because we are unaware of them."
Both reports cite similar recommendations to educators for closing the leadership gap, namely: professional development and training to address teacher bias and attitudes against bias; and increasing girls' access to extracurricular and opportunities to lead. The NEA's report also recommends highlighting the achievements and contributions of women throughout the curriculum.
Graves adds that schools will also need to address underlying inequities before the gap can be closed.
"A lot of our research revealed troubling things that are happening in schools, things like excessive discipline, inappropriate responses that were affecting student learning time, things like unaddressed harassment and treatment of young moms," she said. "At the same time as schools are thinking and focusing on fostering opportunity and fostering leadership with an eye toward girls of color – which I think is fantastic – they have to be looking at ensuring that they're addressing some of the negative factors going on as well."