INDEX: Reflections of Life
Dazzling glass windows connect community, culture

Special to The Dallas Examiner | 10/9/2014, 8:21 a.m. | Updated on 10/10/2014, 1:27 p.m.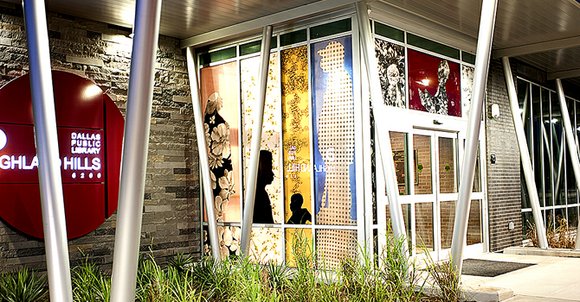 Special to The Dallas Examiner
Shadows and light intermingle with silhouettes and color in the newly installed windows of the Highland Hills Branch Library in Southeast Dallas. The public art installation, Index, was created by artist Letitia Huckaby as a part of the Office of Cultural Affairs Public Art Program.
Huckaby, an African American artist who resides in Fort Worth, began her artistic career when her parents started her in dance classes at the age of 4. Her studies in ballet, tap, jazz and modern dance continued through age 18 and culminated in the opportunity to participate in the prestigious Oklahoma Arts Institute two years in a row. This exposure turned her attention to photography, resulting in a degree in journalism from the University of Oklahoma. She went on to obtain a second degree in photography from the Art Institute of Boston and a master's degree from the University of North Texas in Denton. Index is her third public art piece in North Texas.
"We're pleased to feature Letitia Huckaby's work at the new library," said Kraig Willis, assistant director of Public Service with the Dallas Public Libraries. "This beautiful addition will support the library as a neighborhood destination and contribute to cultivating a creative atmosphere conducive to reading and learning."
Glass panels of red, blue, yellow and green coalesce with silhouettes of community members fused in the glass panels at the library's main entrance. The solid and print color treatments add a sense of whimsy to the artwork. The individuals featured in the artwork include Elouise Curtis, Mark Cook, Keshawn Finnel, Robert Thompson and Shatara Mathis.
"The work welcomes everyone who comes to the library by creating a vibrant entrance environment," said Public Art Manager Kay Kallos, Ph.D., "Letitia actually incorporated images of community members into the artwork, capturing their likeness for generations to come."
The title of the art refers to the physical representation of another object, in this case neighbors living in the community. The piece also harkens memories of index cards and card catalogs used to locate library resources in the days before the Internet.
The Index is permanently on display in the entrance to the Highland Hills Branch Library, located at 3624 Simpson Stuart Road. An official unveiling of the piece will be on Oct. 18 at 10 a.m. as a part of the grand opening of the new library. The artist will be present to meet and greet community members.
Huckaby has also exhibited at the Dallas African American Museum, the Dallas Contemporary, the Galveston Arts Center at Galveston, the McKenna Museum in New Orleans and Renaissance Fine Art in Harlem, New York. Public projects include a piece along the Trinity River in Fort Worth at the Fourth Street Trailhead site, and at the new Ella Mae Shamblee Branch Library in Fort Worth.