Flo Rida celebrates Pop Culture Living
Special to The Dallas Examiner | 10/23/2014, 11:09 a.m.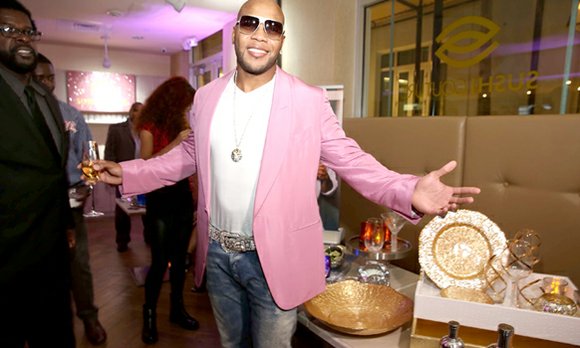 MIAMI – Global music superstar Flo Rida celebrated the launch of his new Pop Culture Living barware and home accessories line at Sushi Couture on Oct. 16. Delectable hors d'oeuvres and signature cocktails were offered to guests during the private preview of pop star's "life of the party" collection.
The collection is meant to spark good times and memorable celebrations with family and friends. Designed to be simple and sophisticated, the line includes his signature "GoLow Martini" glass that features a stunning chiseled base in royal blue, as featured in Seagram's new "The Gintleman" campaign. The deep blue coloring carries throughout the collection with sleek stainless steel and jewel-toned elements. Available at http://www.popcultureliving.com, the line is priced from affordable to slightly lavish and features a handpicked selection of "entertaining essentials" that eflect his personality and sense of design.
The company focuses on materials and designs that have a certain personality, a timeless essence, and above all else – a lighthearted edge.
The collection is an arm of Impulse! Enterprises, a dining and entertainment accessories company founded in 2002 which services hundreds of the top national and international resorts, including EDITION Hotels, Fairmont, Four Seasons, Hilton, Hyatt, Mandarin Oriental, Peninsula Hotels, Raffles, Ritz-Carlton, Shangri-La, SLS Hotels, St. Regis, The Beverly Hills Hotel, The Delano Hotel, The Mondrian Hotel, W Hotels and countless other luxury and style-driven hotel brands, bars, country clubs and cruise lines in over 45 countries.