Ebola in Dallas: Could Texas declare an emergency disaster?
MIKE McGEE | 10/27/2014, 7:01 a.m. | Updated on 10/27/2014, 6:57 p.m.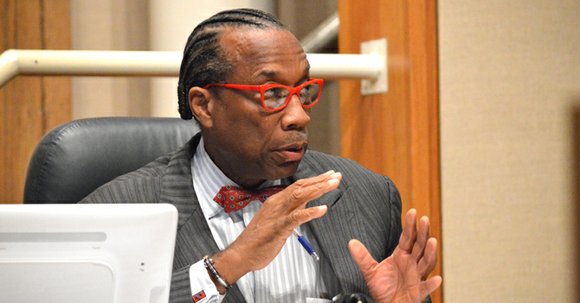 By MIKE McGEE
The Dallas Examiner
During an Oct. 16 press conference at the Dallas County Commissioners Court, the commissioners unanimously decided that they would not make an emergency disaster declaration to the state as a way of dealing with the recent Ebola cases in the county.
District 3 Commissioner John Wiley Price voiced his opposition to the plan.
"I think there are some other issues that are looming before this commission that we need to take into consideration as we go forward. It is my understanding that the emergency declaration in and of itself from a disaster ruling may not accomplish at this juncture what we expect," he stated.
Price urged the court to "move cautiously" while acknowledging that the declaration "is in our tool box."
County Court Judge Clay Jenkins noted that a disaster declaration allows the governor to set up a district disaster center – something that is already being prepared by hundreds of people should the need arise, he said.
Jenkins further stated that after consultations with the mayor, the governor's office, U.S. Sen. John Cornyn, Dallas Health and Human services and other agencies, the court deemed the declaration unnecessary.
"There hasn't been the need to use extraordinary powers or to put people under a form of special law," he insisted.
Instead, 75 Texas Health Presbyterian Hospital health care workers who had contact with Thomas Eric Duncan, the first person to be diagnosed with Ebola in America – and a further 60 people who have been in contact with those individuals – were placed in quarantine. These individuals were requested, under a signed order, to limit their travel, not to congregate in public places and stay at home, for 21 days, Jenkins related.
"We're dealing with heroes, not criminals," Jenkins said of the hospital personnel who assisted in Duncan's lethal fight against Ebola. "None of these people have done anything wrong other than be in contact with the bodily fluids of an Ebola victim."
The number of persons on the quarantine list was "fluid" the judge said, and could change as needed.
District 4 Commissioner Dr. Elba Garcia stated that day-to-day needs for the individuals – such as grocery shopping or getting prescriptions – would be handled by the county until the potential Ebola incubation period had passed.
"We take care of them like we have been doing with the family of Mr. Duncan," she stated.
Since the press conference, the 48 people who made up the first group of people being monitored – who were most closely in contact with Duncan – are no longer under observation and have been cleared of having Ebola, Jenkins alerted the media on Monday.
"Our happiness is mixed with sadness at the same time," Louise Troh said in a statement to the press on Monday. "My beloved fiancé, Thomas Eric Duncan, who was also the father of my son, Karsiah Eric Duncan, did not survive with us. We continue to mourn his loss and grieve the circumstances that led to his death, just at the time we thought we were facing a happy future together. Our hearts also go out to the two brave women who have been infected by this terrible disease as they were trying to help him."