YMCA offers diabetes screening, education
Special to The Dallas Examiner | 9/1/2014, 7:10 p.m.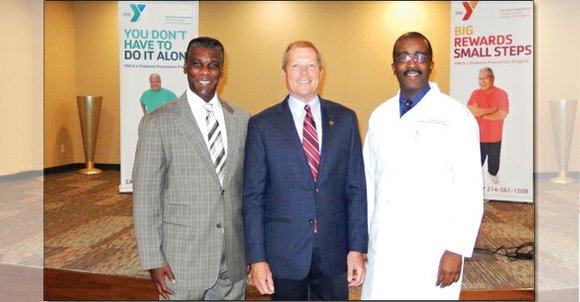 Special to The Dallas Examiner
On Aug. 21, Dallas County Health and Human Services announced a grant award from the National Association of County and City Health Officials to partner with the YMCA to identify, screen and educate individuals at risk for diabetes. On Aug. 14, DCHHS and YMCA hosted a campaign kick-off today at Concord Senior Center. More than 100 Dallas County residents attended the event to receive diabetes screenings, education and enrollment in the YMCA's Diabetes Prevention Program.
"This grant and partnership allows us to reach out to those who are at risk, provide education and connect them with beneficial health services," said Zachary Thompson, DCHHS director. "While the kick-off event is over, we encourage our citizens to get screened and take advantage of services."
An estimated 79 million American adults ages 20 years and older had pre-diabetes in 2010, according to the Centers for Disease Control and Prevention. Without lifestyle changes to improve their health, 15 to 30 percent of people with pre-diabetes will develop type 2 diabetes within five years. In 2012, nearly 288,000 adults in the Dallas/Fort Worth Metroplex were diagnosed with diabetes.
Dr. Christopher Perkins, DCHHS medical director/health authority, stressed the importance of finding pre-diabetes early to lower the risk of developing type 2 diabetes.
"Pre-diabetes is a potentially reversible condition," Perkins said. "Early treatment may prevent serious health problems such as heart disease, stroke, blindness or kidney disease."
The YMCA Diabetes Prevention Program teaches individuals to adopt healthy eating and physical activity habits. Through the program, individuals receive support and encouragement from a trained lifestyle coach and fellow classmates while developing a plan for improving and maintaining their overall well-being.
"Through intentional efforts to screen, identify and enroll individuals in the YMCA Diabetes Prevention Program, we aim to help them embrace healthier behaviors to potentially reduce their risk for type 2 diabetes," said Gordon Echtenkamp, president and CEO of the YMCA of Metropolitan Dallas.
Anyone who has been diagnosed with pre-diabetes and would like to participate in the program can contact Tracey Burns, director of healthy lifestyles for the YMCA of Metropolitan Dallas, at 214-561-1509 or tburns@ymcadallas.org.