College Journey through the STEM fields
Special to The Dallas Examiner | 9/8/2014, 10:18 a.m.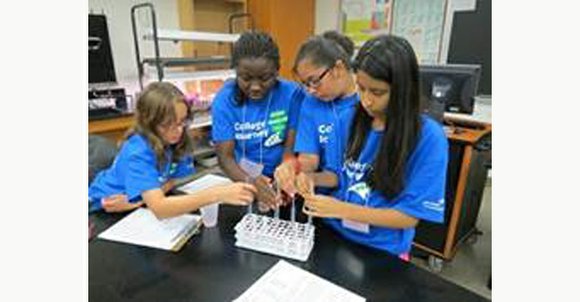 Special to The Dallas Examiner
More than 60 Girl Scouts of Northeast Texas spent their summer days extracting DNA from fruit, using ice cream to convert energy, creating a lip balm business and more hands-on experiments as part of College Journey, the scouting organization's summer science, technology, engineering and mathematics series that gives young girls an opportunity to explore an interest in STEM fields, while getting a taste of college life.
With a lack of qualified candidates to fill much-needed jobs in STEM fields, GSNETX is working to lessen that shortage by partnering with companies to offer fun and exciting STEM-related programming, giving a day-in-the-life peek into a STEM career.
At the overnight camp, girls had the opportunity to participate in hands-on biology, chemistry and engineering workshops. The Girl Scouts started their College Journey experience at Camp Whispering Cedars, a 96-acre camp located in Duncanville, just 20 minutes south of Downtown Dallas. They were bused to Mountain View Community College, near the Oak Cliff area of Dallas, where they partnered with college professors and students to conduct the following experiments:
• Extract DNA from strawberries
• Convert the energy of ice cream
• Design and build a structure that can withstand an earthquake
• Gather and test water samples for acidity levels
• Create, manufacture and market lip balm
• Build and program robots using Vex Robotic Kits
"Girl Scouts is the largest pipeline for female leadership in North Texas, and we want to ensure that pipeline feeds the ever-growing STEM fields," said Jennifer Bartkowski, CEO of Girl Scouts of Northeast Texas.
College Journey was presented in partnership with Fluor Corporation, an Irving-based engineering and construction company.
"Fluor is pleased to help make it possible for girls to explore creativity, innovation and problem solving through Girl Scouts' College Journey program," said Torrence Robinson, Fluor's senior director of Community Affairs and president of the Fluor Foundation. "We're committed to helping girls get excited about the opportunities that a career in STEM has to offer."
Through GSNETX's commitment to investing in STEM programming, the organization will transform the campground into a STEM Center of Excellence, a "living laboratory" for girls to connect to science, technology, engineering and math. While more than 2,200 girls and adults will continue to use the campgrounds, groundbreaking on this project is slated for fall 2014 with the first building opening in spring of 2015.