Dr. McFarland discusses dedication to students, teachers
MIKE MCGEE | 9/8/2014, 10:32 a.m.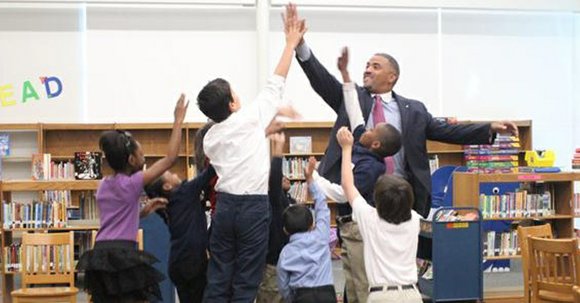 The Dallas Examiner
"I can sum it up real quick – real quick. Everything as far as our measures is going up and to the right. That's a good thing," Dr. Michael D. McFarland, superintendent of the Lancaster Independent School District, declared in October during a Lancaster ISD State of Schools report to the Lancaster Chamber of Commerce.
"You know, people want to be better, and are willing to work and are headed in that direction; then we feel like we can get there," he stated at the time.
His efforts toward improving local schools in the southernmost part of Dallas County have not gone unnoticed. In June, McFarland was named Regional Superintendent of the Year by the Region 10 Education Service Center.
"It's definitely an honor," McFarland said about the recognition, and remarked that it took him by surprise. "It is good, though, when people recognize that the efforts we're doing collectively as a district – from teachers, principals, community service – that people recognize that our effort is something productive and something that is making a difference."
Region 10 encompasses and supports 650,000 students and 53,000 educators in Dallas, Collin, Rockwall, Ellis, Kaufman, Hunt, Grayson and Fannin counties. Its purpose is to "enhance the efficiency, effectiveness and economy of educational programs across the region."
"As superintendent of Lancaster ISD, Dr. McFarland has realized superior academic achievement, greatly improved fiscal management and amassed abundant community support," said Region 10 Chief Communications Officer Kelli Tharp in a statement to the press. "The Region 10 selection committee was impressed with the transformations Dr. McFarland has made thus far and enthusiastic about the vision he illustrated for the future."
McFarland, for his part, made it clear that the recognition wasn't so much about him and reflected on the impact the award may have on parents throughout the district.
"I think it does send a message that our schools – and we have good schools here in Lancaster – that our schools have improved quite a bit," he said. "Four years ago or five years ago that was not the case. When we got here five years ago my goal was to make sure that we'd be recognized as one of the best. This recognition is not just for me but it's for the work that's been done since we've been here."
Trying to pick aspects of the district that have seen the greatest improvement was a difficult task due to the many components that make up an educational system, the superintendent said.
"What I can say is that the first and most important area is through learning, through good teaching, and so kids are performing at high levels now," McFarland acknowledged. "We have the highest graduation rate in the Best Southwest so we're definitely proud of that because at the end of the day our business should be making sure our kids are graduating; not just graduating, but leaving with choices and opportunities."
Along with the leading graduation rate, McFarland boasted, the district also is also the only one in the area where 100 percent of the campuses meet the standards required of the State of Texas Assessments of Academic Readiness report.