Career fair offers second chance
Mike McGee | 9/12/2014, 5:32 p.m.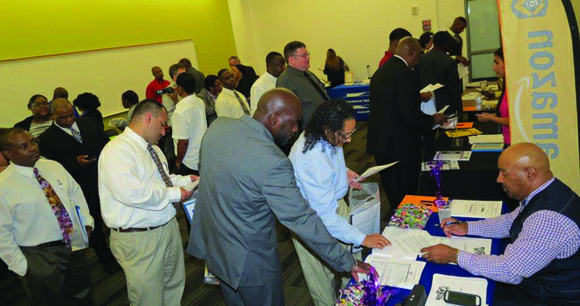 The Dallas Examiner
"In 2012, I made the biggest mistake of my life. It cost me my job, my health and has threatened my family," Kenneth Gower stated. "I have struggled to get my life back on track, putting in application after application, going to interview after interview, all to no avail. My wife has stuck beside me, working as much as two jobs. And my youngest, 17, took in a summer job just to help out. I hate seeing it. I'm not asking for a hand out, just a second chance."
Gower is just one of many men and women who have been convicted of a crime, served their probation and/or time and was released, just to find out that second chances don't usually come easy for those convicted of a misdemeanor or felony.
"I have a business degree – business management – which I've had for 25 years, probably," said Patricia Knickles, a job applicant. "More recently, I've achieved an associate in culinary arts."
Yet Knickles' history continues to hold her back in the current business culture.
"Now I have four years probation on a drug charge which complicates my entire life, my career," she stated. "That's where I'm at."
Knickles joined about 100 other applicants at Mountain View College on Aug. 29 for the second annual Felony/Misdemeanor Career Fair. Those attending were all in need of a good job but remained hampered by a criminal past. In all, about 10 companies and agencies were also on-site, prepared to give the potential employees a new opportunity in the workforce.
Victor Pratt, a volunteer at the event and a member of the Community Partnership Council of Dallas, noted that participants had to attend a mandatory pre-fair orientation and sign up online months in advance in order to get in.
"All the employers are misdemeanor and/or felony friendly on a case-by-case basis, or they are misdemeanor friendly, no felony, on a case-by-case basis," Pratt said. "Every employer participating here does not require the applicant to have a spotless record."
Throughout the day hopefuls attended informative sessions on how to interview or learned tips to improve their chances of getting hired. There were also one-on-one interviews with company representatives. Kelvin Bass, legislative aide to Sen. Royce West and volunteer for the event, said jobseekers with a record face a multitude of hurdles.
"You can't do anything with an old conviction in Texas. It is there forever," he admitted, and pointed out that the governor only gives out 15 to 20 pardons a year. "If you look on the [job] application – 'Have you ever been convicted of an offense?' – it doesn't matter now if you went to prison or were on probation; it's the same. It's just a screening tool now that's used by employers that serves to disenfranchise those persons from the workforce."
Bass pointed out that a conviction also created a social conundrum; while many around the Metroplex want convicts to get a job once released from incarceration, often they don't want to work or do business with folks who have a criminal background, nor provide social services for those individuals.