From Hustling to wholeness
Jakes addresses the State of Black Business
Mike McGee | 9/12/2014, 5:25 p.m.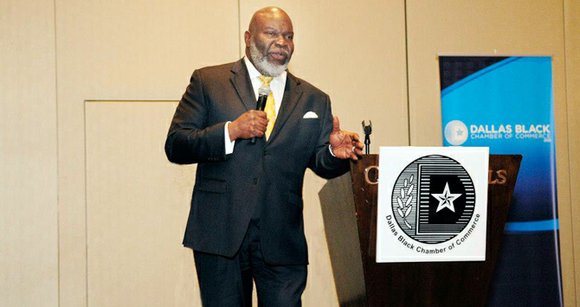 The Dallas Examiner
"An opportunity to bring to Dallas the best minds to share how Black business in Dallas is going from an economic perspective," said Matt Houston, chairman of the Dallas Black Chamber of Commerce, as he described the city's first State of Black Business Forum in a statement. The event was held Downtown at the Dallas Omni Hotel on Aug. 27.
Educational break-out sessions were held throughout the day with such seminar topics as growing business, building sustainability, recruiting and marketing. Bishop T.D. Jakes of The Potter's House was the keynote speaker for the forum's lunch event.
"Every time I get an opportunity to be at a forum like this I'm most grateful to exercise the other half of who I am," he stated.
The bishop is the founder of the T.D. Jakes School of Leadership and CEO of TDJ Enterprises, a family-oriented entertainment and event company.
He began the address by pointing out that Black-owned businesses start up quickly but don't have the profitability that the state average shows for companies across the board.
"Ninety-five percent of all Black-owned businesses in Texas are small with no paid employees other than the owner," Jakes voiced to the crowd that he related to that figure, as his father was an entrepreneur. "I think we need to change those stats because those stats also locking in the case that we have not reached the level of prominence and significance that I believe is possible."
Business owners needed to be focused on where they wanted to end up and not allow themselves to become distracted from anything other than that, Jakes affirmed.
"I want to talk about going from hustling to wholeness," the bishop said, and described for the audience a pattern in which many Black business owners were so busy with keeping their companies going – taking care of all of the important details themselves – that they were not creating opportunities to expand their businesses due precisely to distractions that the nitty gritty details generated.
"Some of us have built a sincere business model of which we are very passionate about but in the process of being passionate about what we do we can't seem to make that tradition from hustling – busy working ourselves to death just to keep our head above water – to supply a product or service to a community, but we don't have an opportunity to make that transition to a viable business like we would like to have," Jakes admitted.
Integrity and strategic planning were cornerstones to successful businesses, adding value to the enterprise that could be built upon, he remarked.
"A person said to me that the real basis of business is discovering need and responding to need," explaining that marketing and investing did no good if consumers had no need of whatever was being offered. "I find more times than not we respond to that need, and particularly here in Dallas, we respond to that need in an amazing way but we are so busy with responding to the day to day responsibilities of those needs that we miss some of the most important parts of business that I think are vitally important for us to be effective."