From Hustling to wholeness
Jakes addresses the State of Black Business
Mike McGee | 9/12/2014, 5:25 p.m.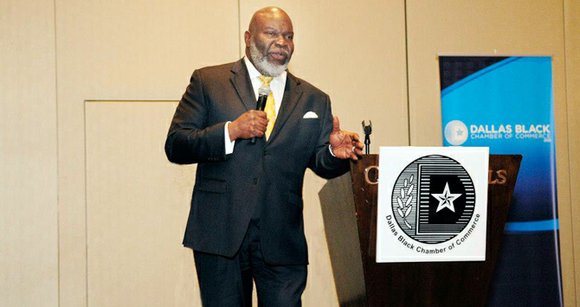 He postulated that a business owner had to be focused upon that business as a calling. That translated to hiring others to do what that owner had already been doing, allowing the owner the focus to take the business further.
"The fact that you are good at what you do doesn't mean you're prepared to run a business," the speaker claimed. "If you don't know what you're not good at you don't know who to hire. You don't want to hire people who are like you, who do what you do, like you do it. You want to build a team that is totally opposite of your greatest strengths and then not criticize them because they're different from you because their difference is what makes the difference in how profitable and how marketable, particularly as small business is."
Social media was the final piece of the puzzle for African American businesses in the Metroplex, Jakes concluded. A business owner connecting with his growing company, the employees and the general public through online networking were all imperative for success in the modern world.
"Relationships are your absolute greatest resource. It's bigger than money. It is bigger than real estate. It's bigger than property," Jakes reasoned.
As he leaned on the podium the bishop underscored his message that local African Americans needed to build business associations that "united rather than divided" by stating to the audience, "So, dearly beloved, we are gathered here today ..."
Katrina Keyes, a DBCOC board member, felt that the lesson Jakes delivered contained wisdom for every African American businessperson in the city.
"I think he gave them key aspects of what it really means to be an entrepreneur. It's not being self-employed; it's really having a business, growing a business, having a good service and having great people. We have a lot of entrepreneurs here in Dallas. Business economy is great so there's no reason that we shouldn't' be succeeding as business owners," she said.
Bridgette Miles, 27, was an attending small business owner who said she liked what she heard. Miles confessed that her education-based company, Beeinspired2, has been around for less than a year but Jakes' words and the break-out events she attended encouraged her to keep moving forward with her efforts.
"It kind of gives me an extra push to keep working, knowing that eventually all of my dreams and aspirations can come alive as long as I continue to build the right connections and continue to gain knowledge about small business here in Dallas." Miles also agreed with Jakes' message of the importance of unity. "If we don't support each other then no one will go anywhere."