North Texas gives from the heart
The Dallas Examiner | 9/12/2014, 11:43 a.m.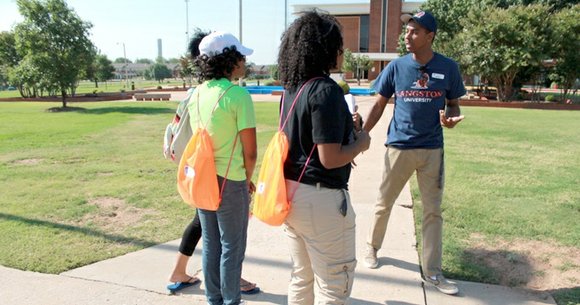 The Dallas Examiner
Compassion and awareness comes from deep in the heart of the annual North Texas Giving Day. It is a day set aside for charitable organizations to spread awareness about their services, receive donations to help sustain their services and network with supporters.
Within the last five years, the day of giving has directed over $60 million into North Texas communities. Last year alone, more than 1,350 non-profit organizations received $25.2 million, according to the Communities Foundation of Texas – who launched the annual event in 2009.
This year, on Sept. 18, supporters can send in their donations between 6 a.m. and midnight to their choice of more than 1,600 certified nonprofits located in 69 cities across North Texas. All groups are listed on the website. Donations of $25 or more will be amplified by $2 million in bonus funds and prizes that have been donated from several local business and foundations. Prizes range from $1,000 to $10,000 and will be awarded in categories.
Among the list of non-profits is the Dallas Black Chamber of Commerce. The group, which has become more active in the community this year, serves as an advocate for African American business – promoting business growth through partnerships, referrals and technical assistance, as well as presenting business training and seminars.
With a mission to improve the lives of abused children in Dallas County and provide national leadership on child abuse issues, the Dallas Children's Advocacy Center will also participate in the day of giving.
Big Thought, a leader in innovative and creative educational programs, hopes to receive donations to support its mission to continue to unite civic, educational, arts and cultural resources in order to bring opportunities for learning, imagination, creativity and success to children throughout the city.
The Lee Arthur Johnson Center in Arlington hopes to spread awareness as well as garnish support for its efforts to provide comprehensive testing services to the community outside of the formal school setting. Student focused tutoring, SAT/ACT preparatory classes and Dream to Achieve College Tours are provided free or low cost for students who cannot afford the more expensive test preparation centers.
TeCo Productions has also set up a donation page for its Teenager and Theatre apprenticeship program. Known as T-an-T, the Oak Cliff theatrical non-profit helps students pass the reading part of the STAAR test.
The Dallas Black Dance Theatre, the oldest, continuously operating professional dance company in Dallas, also hopes to raise funds to support its mission "to create and produce contemporary modern dance at its highest level of artistic excellence … through performance and educational programs that bridge cultures, reach diverse communities and encompass ever-expanding national audiences."
The organizations are arranged in 16 categories. The largest category is education, followed closely by youth and children. Other categories include: community improvement; housing and shelter; hunger, food and nutrition; veterans; and more.
Along with a donation website where supporters can find all of the verified charities involved, there will be various free family-friendly events from 7 a.m. to 7:30 p.m. in Dallas, Arlington, Fort Worth, McKinney and Denton.
The Dallas County Donation Station will host an inaugural North Texas Giving Day – Kids Give at the Communities Foundation of Texas, a longtime supporter of the giving day event. The station is located at 5500 Caruth Haven Lane, in Dallas. DFWChild will provide an opportunity for children to donate their loose change, as well as participate in philanthropic activities, such as filling Hope packages for pediatric patients, donating canned foods, planting seeds for community gardens and making pet toys for animals in shelters.
More information can be found at http://northtexasgivingday.org.