Lawsuit seeks $40 million for victims of police abuse
DR. J.A. SALAAM | 9/15/2014, 10:03 a.m. | Updated on 9/15/2014, 3:34 p.m.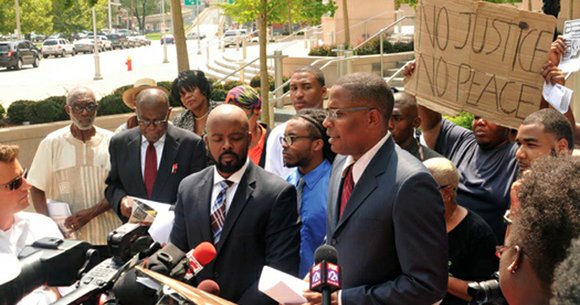 ST. LOUIS (NNPA) – Sweltering heat didn't keep more than 50 people from gathering at the Eisenhower Federal Building for a press conference where attorney Malik Shabazz of Black Lawyers for Justice announced a class-action lawsuit on behalf of the "Ferguson Five," city residents and others who the attorney said were abused by police during protests and a law enforcement crackdown in Ferguson, Missouri, after the shooting death of teenager Michael Brown by a White police officer.
"We are here to deliver what we have promised. There have been many victims of rogue forces. There are people who have come forth and we call them the Ferguson Five. These are the first of many more that this case will represent," Shabazz said Aug 29.
Tracey White, Dwayne Matthews, Damon Coleman, Theophilus Green and Kerry White are like others who were handled with brute force by Ferguson and St. Louis police during heated protests, said the lawyer. "We are here because the police are out of control and have used excessive force. We just want to say to Chief Thomas Jackson, justice will not sleep," Shabazz said.
The civil case is seeking $40 million in damages from Ferguson Police Chief Thomas Jackson, St. Louis Police Chief Jon Belmar and a host of officers from Ferguson and the St. Louis police departments.
The press conference began at approximately 1:40 p.m. as the crowd patiently awaited arrival of the hard copies of the filing documents.
Shabazz came out of the court building wearing dark shades, a nicely pressed gray suit and a red tie, a completely different look from the Black militant look he is known for when he marched on the front lines with demonstrators outraged by the Aug. 9 killing of the Black teenager.
The crowd began to chant, "No justice! No peace!" and "Hands up! Don't shoot!" as he stepped in front of the cameras. Federal police formed a straight line across the upper steps of the court building about 60 feet behind the lawyer and the crowd.
"People of the jury, if you feel that the police of Ferguson and St. Louis County are unjust and have treated the people wrong, please raise your hands," he said.
With no hesitation all present raised their hands in agreement.
"The $40 million in damages sought could go higher; we intend on teaching them a painful economic lesson," he said.
"My son and I attended a peace and love rally sponsored by the AME church of Ferguson. Afterward we walked to the McDonald's to get something to drink and eat," said plaintiff Tracey White.
The mother and son were waiting Aug. 13 for her husband to come pick them up. They purchased food and drink. Her son went to the bathroom. "While he was in there several police came in dressed like the army," White said.
"They ordered me and other customers to get out," she said. She didn't want to leave without her 17-year-old son, who she saw being accosted by police. When she expressed concern about the mistreatment of her son, officers threw her to the floor and handcuffed her, according to White. As her son looked on she cried out to him to come get his I-Pad. When he attempted to get it, he was arrested, she continued. They were held for 5 hours and charged with "failure to disperse."