Dallas CEOs on Black Enterprise Top 100 list
MIKE McGEE | 9/17/2014, 11:52 p.m.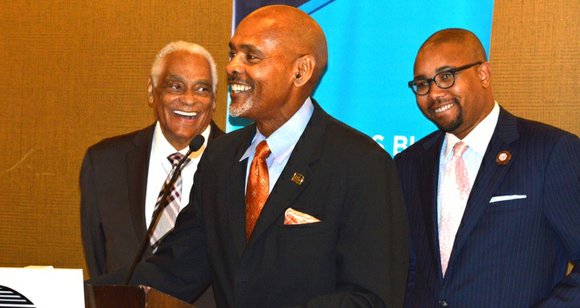 The Dallas Examiner
In celebration of three Dallas County-based businesses who made the Top 100 Black-owned businesses in the July issue of Black Enterprise, the Dallas Black Chamber of Commerce held their first Black Enterprise Top 100 Reception on Aug. 26 at the Dallas Omni Hotel to recognize those chosen by the magazine. The evening's guests of honor were Albert C. Black Jr., CEO of On Target Supplies and Logistics, Charles Griggsby, CEO of Facility Interiors Inc., and Roland Parrish, CEO of Parrish Restaurants Ltd.
Matt Houston, DBCOC chairman, stated that being named to the list was "an incredible honor," as he introduced the trio.
"Not only have these companies appeared on the list, they've done it multiple years in a row. This demonstrates to me the persistent pursuit of excellence in everything that they do," he announced.
Houston added that the award ceremony represented the beginning of the chamber's first State Of Black Business Forum that would continue the next day.
"We're educating different and future Black entrepreneurs on the keys to success in business, inspiring our business leaders to grow and develop their business to their highest potential, and ultimately we hope to cultivate a business culture here in Dallas that works together to produce a strong and vibrant community," he stated.
Once the opening remarks were completed, the three local captains of commerce stepped onto the reception stage to accept their awards.
Tre' Black accepted a plaque for his father, Albert Black. On Target Supplies and Logistics is a regional logistics firm that the elder Black founded in 1982 according to Houston. The company's supply chain functions include procurement, transportation, warehousing, licensing and manufacturing for many Fortune 500 companies, he said. Black offered food for thought to current and future African American entrepreneurs about their conscientiousness as business leaders.
"We all have a corporate responsibility to go out and volunteer and things of that nature," he told the crowd.
Tre' Black also paraphrased a quote from Dr. Martin Luther King to illustrate his point.
"Our lives begin to end when we become silent about things that matter the most. Wow," he exclaimed, and went on to note that many times in the past he had served on various boards in the community yet witnessed much discord during those times.
"And I'd say, 'What are you here for? What are you here for? What is the obligation of the noble class? That class of people that can go out there and serve and step away from the reins?'" Tre' then challenged those in the room.
"Consider your silence," he proposed to those gathered. "For the other African American firms in the room, I say be fearless, be bold and be unforgivably Black."
Griggsby also shared some words of wisdom. Houston remarked that Facility Interiors Inc. began in 1994 when Griggsby formed a strategic alliance with the contract furniture company Furniture Marketing Group, creating his full-service furniture dealership. The CEO admitted that the path to success in business began with attitude.