Dallas CEOs on Black Enterprise Top 100 list
MIKE McGEE | 9/17/2014, 11:52 p.m.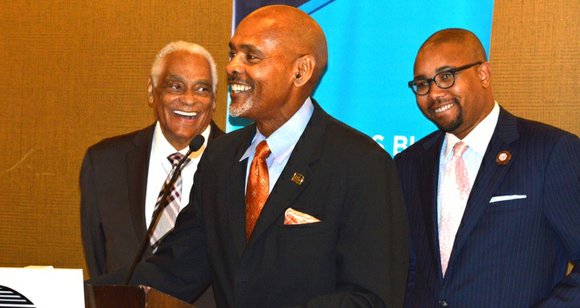 "If you don't have the right attitude for service, for giving, for loving, for accepting everything – because sometimes you're going to have a problem that you've got to talk to the Person about," he said as he gestured toward the heavens, "And you've got to have an attitude to be willing to listen."
Griggsby went on to mention that it was a time of "attitude adjustment" for African Americans as well as a time for believing in themselves as groundbreakers.
"We are so far ahead of the game right now, that if you look back in the history and see where we were and see where we are now it's, okay – we're not there yet. That's the determination of we're not there yet, so let's keep going. So keep going," he concluded. "Have an attitude of success, and an attitude of completion, and an attitude of making it."
During the award ceremony, Houston revealed that Parrish made his mark in the business world through his 25 McDonald's franchises in North Texas. He also announced that Parrish Restaurants generates more than $60 million annually.
Parrish wanted to make sure that young African American entrepreneurs got the message to never lose their drive for success. The franchisee opened up about the toughest struggle he had to face along the way to making it big in the Metroplex business world.
"My application to become a franchisee was rejected and I didn't know anybody at McDonald's," he confessed. "I'm very glad that I had the perseverance to make the call and talk to them."
Still, it wasn't as simple as waiting for something to happen, Parrish offered. It was three weeks before he could get the person who rejected his application to answer his phone calls.
There were times of struggle for Parrish as he tried to get his new venture going even though he could lay claim to two degrees from Perdue University and more than a decade working for the Exxon Corporation. While he did say that saving his money helped get him through tough times, Parrish also acknowledge that it took "humbling experiences" to get back on the corporate track.
"I worked a pump island with two business degrees," he said as he referred to the days when gas stations had attendants. "I ran a service station in Lehigh, Arkansas, with two degrees. I ran service stations in Jackson, Mississippi, and McComas, Mississippi, and Hazlehurst and Hattiesburg in 1978, a Black man. So you've got to persevere."
Parrish summed up his advice to those who might be struggling as he did.
"Hopefully you have a good blue collar ethic because you've got to work hard." The restaurateur and business leader took a philosophical approach about what his award ultimately represented in regard to his accomplishments.
"It goes back to Luke 12:48 - 'To whom much is given, much is required,' and I love to give back to the community."