Dancer Misty Copeland inspires new generation of ballerinas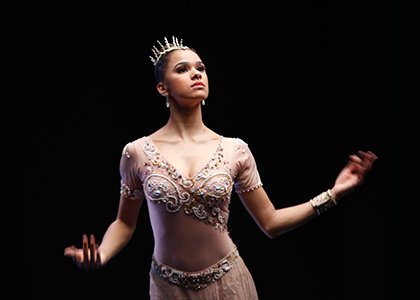 In addition to her love of ballet, Misty is an ardent supporter, alum and an ambassador for the Boys and Girls Club. Misty is proud of the diversity initiative that is in the works with the Boys and Girls Clubs and with the American Ballet Theatre called Project Plié. The goal of Project Plié is to increase the ethnic and racial makeup in ballet. She says that it's "still in the very beginning stages" but the idea "is to bring affordable top notch training to the clubs across the country."
The world of ballet has afforded Misty many opportunities. She's the latest female athlete to represent Under Armour in their campaign, I Will What I Want, and the sports apparel company is banking on Misty to inspire and empower a whole new generation of women athletes.
When asked what her advice would be to those brown girls who are struggling to find their voice, Misty says, "it's important to know who you are. You're going to be viewed by society by the way you look. Stand proud in those things but don't let them become you. Don't let others' ideals box you in."
Courtesy of The Bay State Banner
Firebird, published by Putnam Books, an imprint of Penguin Young Readers Group) is on sale beginning September 4, 2014.