CrackDown: Demolition project helps revitalize South Dallas community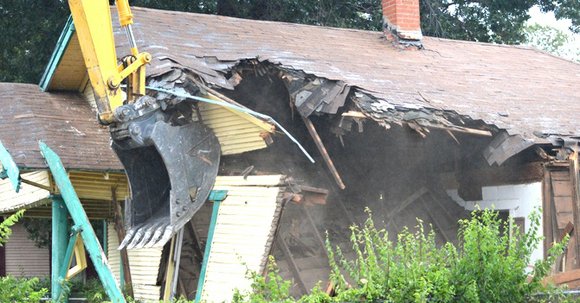 The Dallas Examiner
"Knock it down, knock it down ..." chanted a group of elementary school children as the metal claw of a backhoe ripped into a crumbling, abandoned house at 3218 Trezevant St. near Fair Park.
The cheering of the students from the J.J. Rhoads Learning Center signified the Sept. 12 demolition as a more extreme way of rejuvenating the area via the city's partnership with Operation Crackdown.
The statewide endeavor targets homes that are involved with the illegal drug trade and associated violence. Notably, the structure was less than a mile and a half from the learning center and across the street from the Church of Christ on Park Row Avenue.
The Texas Counterdrug Task Force coordinated the operation with local law enforcement and the district attorney's office, the city and the Texas Joint Military Forces Soldiers and Airmen; Texas National Guard soldiers did the physical demolition at the Trezevant site. This was demolition number 822 for the city through Operation Crackdown since 2011 according to Mayor Mike Rawlings.
"As you know, we believe Southern Dallas has the greatest, greatest growth opportunity in the city of Dallas," Rawlings stated, referencing the City Council's view on the advantages the area offers. "We've laid a plan called GrowSouth, but in that plan is a note that we must have a culture of clean."
He called out to the students.
"Do you hear that children? We want you to be clean, because if you're clean you're going to do good; you're going to do good in school, and that's what we want to do in our community." Rawlings expressed that part of the "culture of clean" for Fair Park neighborhoods was to make sure that old, misused property was cleared away for new development.
He added that private money would eventually be used to improve the entire block on which the razed house sat.
"That's the way a new community gets built – over time. Not instantaneously, but over time, we're starting to do that."
Dwaine Caraway, City Council representative for District 4, also maintained that ridding the neighborhoods of hotspots that increased crime was imperative.
"We're not doing all this just for our district; it's for the city of Dallas. We're knocking down 35 houses, and seven of them are right here in South Dallas in Councilwoman Davis' district," Caraway indicated, speaking about the cooperative partnership he has had at City Hall with District 7 Councilwoman Carolyn Davis. "She works extremely hard, and she makes sure that she is participating and is a part of any and all success."
Davis made it known that the demolitions were just part of a bigger revitalization scheme.
"We're doing a lot in this area," she said.
Davis discussed the ongoing work with a new multi-restaurant property that will line Robert B. Cullum Boulevard and another project coming to Grand Avenue.
"And so with this happening, with the Operation Crackdown, I think it's a plus that we're doing this. New development is coming to this area," she continued.
Deputy Chief Michael Coleman with the Dallas Police Department Southeast Patrol Division reminded those attending the demolition ceremony that the key in transforming the area into something new was crime reduction.
"When I came here in 1987, I worked undercover in the late 80s, both in narcotics and vice. This was one of our main focal points, unfortunately," he said about the rundown residences in the Fair Park area. "These are havens for crime issues."
The deputy chief emphasized that he now sees a brighter future for the region.
"To see this come to where we are, to look at these areas and see how revitalized they've become, to know that there were areas that I bought drugs in – undercover, on duty – and to see that they are now flourishing businesses, flourishing neighborhoods, that's what it's all about," Coleman affirmed.