All eyes fixed on Ferguson's April 7 election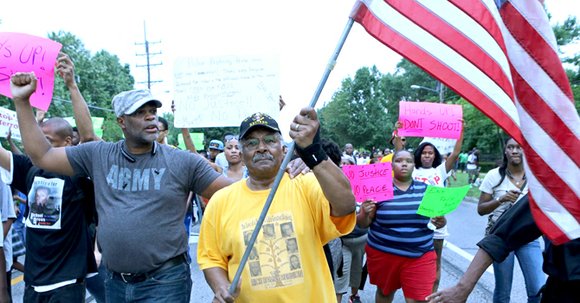 WASHINGTON (NNPA) – If the Black residents of Ferguson, Missouri, want to radically reform the political climate that encouraged police to disproportionately ticket, fine and arrest them to collect revenue for the city coffers, they'll have to do more than embrace non-violent acts of civil disobedience and peaceful protests – they will have to vote.
In the north St. Louis suburb that is nearly 70 percent Black, five of six city councilmembers are White and the mayor is a White Republican. The police force is almost 95 percent White.
On April 7, voters in Ferguson will go to the polls in a round of highly anticipated elections for three out of the six of the City Council seats.
"We are in the process now of preparing people to go to polls so that we can turn the tide of the council, where the real power lies in Ferguson," said Rev. Traci Blackmon, pastor of Christ the King Church of Christ in Florissant, Missori, adding that four residents who have been actively involved in the protests are running for those three open seats.
The City Council selects the city manager, who supervises every department in Ferguson. While Mayor James Knowles brings home $350 a month for serving as mayor of the St. Louis suburb. The St. Louis Post-Dispatch reported that Ferguson City Manager John Shaw's annual salary soared to $120,000 after he was hired in 2007 at $85,000. Shaw resigned shortly after the release of two separate Justice Department reports, one of which painted him as one of the chief architects of a plan that turned the Ferguson police into collection agents for the city.
Getting voters to turn out will be an uphill battle for the activists that have led protests in Ferguson for more than 200 days since police Ofc. Darren Wilson shot and killed Michael Brown, an unarmed Black teenager.
CNN reported that roughly 42 percent of Ferguson voters casted ballots during last November's midterm elections and that only a few hundred residents had registered to vote between Aug. 11, 2014, and Oct. 8, 2014.
In 2013, even though Blacks account for nearly 70 percent of the population in Ferguson, Whites made up more than half of the Ferguson electorate, according to voter data analyzed by The Washington Post. Less than 20 percent of eligible Ferguson voters showed up at the polls when Knowles was elected in 2011.
Blackmon said that low-voter turnout in local elections is not unique to Ferguson. Municipal elections are often held separately from national elections and in some jurisdictions party affiliation is left off of the ballot completely. Blackmon said that economic depravity and educational inequality have caused some to turn away from the political process.
Denise Lieberman, an attorney with the Advancement Project who also co-chairs the Don't Shoot Coalition, a network of more than 50 diverse local organizations that came together in the wake of the shooting of Brown, said that the epidemics of police violence and voter suppression add to that malaise.