Is there a success formula?
MIKE McGEE | 4/6/2015, 9:33 a.m.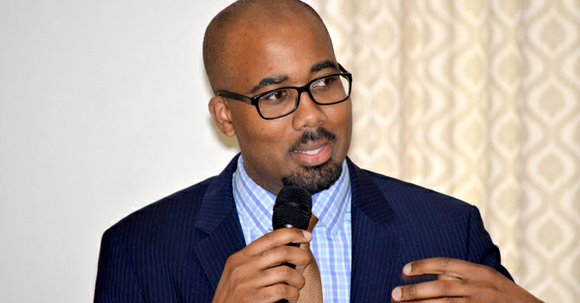 The Dallas Examiner
Raamel Mitchell once wondered, could there be a scientific equation for success? Rather than wait for someone else to come up with an answer, Mitchell, the Public Affairs and Citizenship director at Microsoft, decided to decipher the enigma himself and called upon his own experiences to do so. He shared what he discovered during the "Voices that Matter" lecture series on March 17 at Paul Quinn Collage. It was the fourth meeting in a series of five lectures.
"I grew up in Oak Cliff. I went to school at Law Magnet High School," he told those assembled before him. "I want to start with that story because that story's really going to lead into the conversation we're going to have a little later about success and some thoughts about success."
The challenge
Mitchell talked about how he was "geeked out" on science and inventing. So much so in fact that he decided to concentrate on becoming an engineer rather than on studying law.
"I enjoyed being able to create; being able to make."
He also noted that he was inspired by an older brother, Millard, who is also an engineer.
The instructors at Mitchell's school were skeptical of his abilities, however. One academic advisor told Mitchell that he couldn't believe he passed a key physics exam, which turned the student's excitement about his success to bewilderment.
"He looked at me straight in my eye and said 'There must be a mistake. You couldn't have.'"
Mitchell said the worst moment occurred when his brother came to speak to a class at his school.
"And so he came out. He spoke to the class. One of my best friends … told me she raised her hand in class and said, 'Raamel wants to be an engineer, just like his brother.'"
The instructor's stark reply was "Raamel will never be an engineer."
The speaker did not divulge how the teacher came to such a conclusion, although he did confess that he was shocked to learn the instructor held such a view – and was so willing to share it with others.
Mitchell remarked that such negativity never tested his faith in education even while his trust in those who did the educating was sorely damaged.
"I had a choice," he acknowledged. "I could have said, 'All right, he's right; he knows more, he's done this … I'll never be an engineer.'"
Instead, Mitchell turned that sentence into a fuel that drove him to achieve. The young man was recruited by the Raytheon Group out of high school, earned his bachelor's degree from Tuskegee University, and later obtained MBAs from Georgetown University and ESADE Business School.
Mitchell stated that once he earned his degrees and found his place at Microsoft, he visited his old high school in part to look up the teacher who said that he would never become an engineer.
"When I moved back to Dallas – I was an engineer, had all my credentials – I went back to the school and he wasn't there," he said with a smile, then stated he wasn't even sure what he would have said.