2015 Educator of the Year Award
MIKE McGEE | 4/13/2015, 9:27 a.m.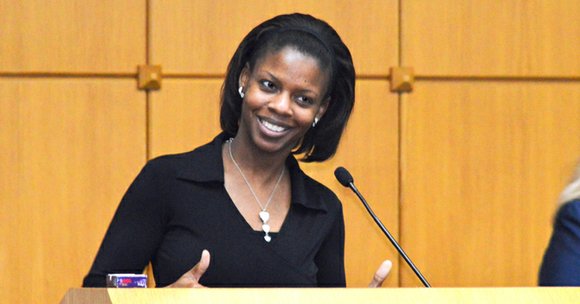 The Dallas Examiner
"The color of the skin is in no way connected with strength of the mind or intellectual powers." – Benjamin Banneker
A breakfast crowd greeted local educators who have dedicated their time and livelihood to their students' strength of mind at the 2015 Educator of the Year Award on March 25. The event, presented by the Oak Cliff Chamber of Commerce Education Committee and held at the Methodist Dallas Medical Center, was a benefit for the Golden Oaks Scholarship Fund and a way to pay tribute to those who excel in their profession, according to a statement from the chamber.
Those recognized for the honor were Dr. Sue Kavli, Dallas Baptist University, for College Educator of the Year; Rametria Smith, Sunset High School, for High School Educator of the Year; Tonikka "Toni" Dickerson, KIPP TRUTH Academy Middle School, for Middle School Educator of the Year; Carmalie Sims, George Washington Carver Creative Arts Learning Center, for Elementary School Educator of the Year; and dual awards for Barbara McGinley, Rosemont Primary School, and Nancy De la Pena, Faith Family Early Childhood Center, both for Pre-K/Early Childhood Educator of the Year.
As attorney Scott Chase prepared to bring Kavli, professor of Leadership and Research at DBU, on stage for her award, he read aloud what one nominator wrote about the doctor.
"Her legacy will be one of never giving up and always pressing on," he informed the audience. As the educator accepted the award she spoke about the importance that she placed on her work.
"Education is my passion," Kavli said. "I believe education is so much more than just trying to be a face on stage and cramming all this down someone's throat." She added that her first teaching job was in Abeokuta, Nigeria, at a teacher training collage.
"We would paint boards with chalkboard paint that I brought from America so that kids could learn to read and write." Kavli admitted that the needs of students are always the same, whether they study in a small village or a high-tech campus and described the mission of teachers "… of helping individuals learn and grow and become all that they were meant to be."
Shirley Heitzman of Faith Family Academy introduced Smith as she related the importance of her techniques as a music instructor to her students.
"She has grown a program over the years at Sunset High that really bubbled over with student achievement," Heitzman noted. "[She] uses a lot of technology, a lot of really innovative … techniques with music and her students and that is why kids love her class and why she has grown her program to about 100 students these days," she added.
Smith remarked that teaching was in her blood. "My great-grandmother was a teacher. My grandmother served for 41 years as an educator and my mother's still in the field of education; she's in her 37th year teaching." She confessed that she was thankful for the recognition. "As educators, we can agree sometimes we get a bad rap, and sometimes the days get long, but this is such great encouragement."