2015 Educator of the Year Award
MIKE McGEE | 4/13/2015, 9:27 a.m.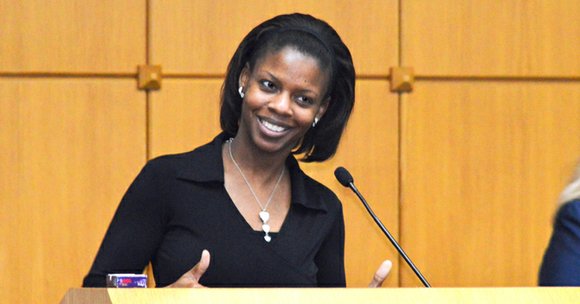 Steve Barrett of Cedar Valley Community College presented Dickerson with her honor as he shared her career path with the audience.
"She started her career in banking and finance and made the switch to teaching in 2011," he revealed, and added that she made the jump from the subject of history to that of mathematics in 2013. "She builds incredibly strong one-on-one relationships with her students and she serves as a mother-figure and a mentor to so many who have the odds stacked against them," Barrett said as he praised the instructor's talents.
"This is too much," said Dickerson, emotionally overwhelmed at the kudos. "… To be honored for something that I just love getting to do; something that pushes, and drives me to be able to walk into a place, in a shopping center at the corner of Lancaster and Kiest by a Fiesta [supermarket] and make transformations in the lives of African American students is truly, truly, truly an honor."
Alison Beasley of The Kessler School praised Sims as she brought the music teacher to the stage. "Here are some of the things that we've heard about Ms. Sims," she prefaced. "'Our staff looks to her for guidance and support,'" she read. "'Our school is a more joyful place because of her.'"
Sims shared her thoughts on the intellectual nurturing of children before she accepted her award.
"I'm very behind the scenes but I'm very up front when it comes to those children because the first thing you have to do, you have to show them that you care," she acknowledged. "They're not going to be able to learn, they're not going to be able to pass a test, not be able to do anything until they know what they should do so that they can achieve," she further affirmed.
Sherry Berg, the Golden Oaks Scholarship Coordinator, closed out the awards program by lauding the efforts of McGinley and De la Pena.
"She gains the children's trust; she thinks outside of the box," Berg said of McGinley's incremental steps to teaching. "She just marches them through the process." As McGinley accepted her award she remarked on the support of those around her who helped her excel.
"My peers are here, all my friends especially, and without them I couldn't do that."
Berg again stood at the podium and celebrated De la Pena for her dedication to educating children. "She promotes activity and involvement," the coordinator confirmed about the instructor, and continued, declaring "We're so proud that we have a teacher who engages our children."
De la Pena, too, expressed her appreciation for the recognition. She described her concern for her students as an expression of a calling she felt many years ago that moved her "to make a difference.
"At that time I thought it was a tradition," she said, but verified that such devotion was an integral part of the job. De la Pena put her dedication to her pupils into simple terms and stated "I have 25 students right now in my classroom and they know I love them and I know they love me."