Joe' May elementary celebrated
Last school under 2008 bond program prompts ideas for new package
DIANE XAVIER | 4/13/2015, 10:08 a.m.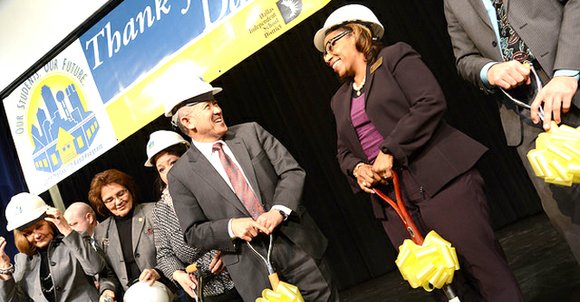 The Dallas Examiner
The final school campus under the 2008 Dallas Independent School District bond program held its groundbreaking ceremony with Dallas ISD schools officials, Dallas City Council members, and community representatives on March 6.
The groundbreaking ceremony for the construction of Jose "Joe" May Elementary school was held at Francisco "Pancho" Medrano Middle school due to inclement weather.
The school is named after late Dallas ISD school board trustee for District 8, Jose "Joe" May, who served from 2002 until 2006.
"This is the last school in the 2008 bond program and we will be breaking ground and hope to have it open not this coming school year, but next," Dallas ISD Superintendent Mike Miles said. "The school will be across from Medrano Middle School. This school has been anticipated for quite some time due to the growth in this part of town and the population of students has been growing. I wish the future of Joe May elementary to be such a school that all the kids get the education that they need."
Miles said as far as building additional new schools in Dallas ISD, now is the time to take that issue to the voters since many of the district's schools are in poor condition.
"After finishing the bond program for 2008, we are going to be looking forward to presenting to the board and the community a next series of schools and renovations that need to be done in DISD," Miles said. "We certainly have to do some renovations and add wings for additional students in existing schools. There are many schools we have to build new schools for. I think this is the time to go back to the community and ask them for a bond going forward."
May Elementary is scheduled to open in August 2016 at Brockbank Drive and will serve over 800 students from pre-K through fifth grade. It will feature 33 classrooms, two computer labs, two multi-use classrooms and four head start program classrooms. The building will be 99,811.94 square feet.
Tim Hise, executive director of the Thomas Jefferson High School Feeder Pattern, explained the importance of having a new elementary school in the area.
"We have a chance to plant a seed for preservation, pride and an opportunity to provide a competitive environment that will empower our students for life-long success," Hise said. "The name Jose 'Joe' May represents a passion for service, public education and concern for others. This community has a proud legacy to uphold."
Board President Miguel Solis, District 8 trustee, said the naming of a school is a small but important part of the job of a trustee.
"This community can be rightly proud of the name that will grace this new school," Solis said. "Jose 'Joe' May stood up for the rights of others. As an Army veteran, youth counselor and advocate for civil and voting rights, and a trustee of this very community, May took on the hard fights not because they were easy, but because they were hard."