Monday Night Politics: Mayoral candidates
DIANE XAVIER | 4/13/2015, 10:11 a.m.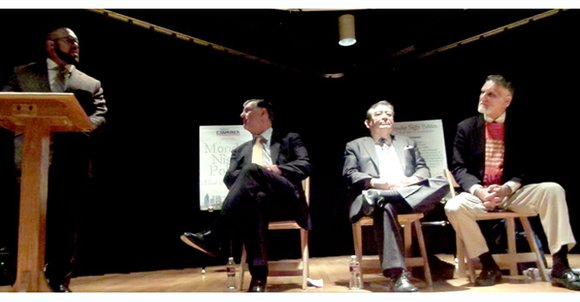 The Dallas Examiner
Three candidates are seeking to become mayor for the city of Dallas in the upcoming election. Incumbent Mike Rawlings is seeking a second term and facing opponents attorney Marcos Ronquillo and retired engineer Richard Sheridan.
All three candidates spoke at Monday Night Politics – Meet the Candidates, held at the African American Museum on March 30.
Rawlings thanked The Dallas Examiner for hosting the series of forums.
"It is great to see democracy in action," he said. "As citizens of Dallas, I just want to say thank you for letting me be mayor. It is hard work but it has been a wonderful gift to my life. I'm a better human being because of this experience and the input that everybody has given me is better. I think we are at a crossroads called an election. I think we need to pause and ask ourselves do we want to move forward or change directions because this vehicle called Dallas is moving fast. I believe that when you take every citizen in Dallas and their history and when you ask those citizens across the board from all races, this is the best time to live in the city of Dallas because we have made improvements. Crime is down since 1966. Also, economic development has improved. And third, sales tax revenue is going up and so are property values. Citizens in Southern Dallas are happier with overall satisfaction."
Ronquillo started his introduction by asking the audience if their neighborhoods are better off today than they were four years ago.
"Then, I want you to ask yourself, 'Is your neighborhood school better off today than it was four years ago?" he continued. "Ask yourselves, 'In your community, with respect to economic development, is it better off today than it was four years ago?' That should be the focus of this campaign. I agree with the mayor that we are changing directions, but just because you change directions doesn't mean you are moving forward. The direction I would like to lead this city as your next mayor is to focus in on infrastructure, basic services, strengthening our neighborhoods, and making sure our kids are walking to a great neighborhood school that actually has sidewalks. I want people to get off of septic tanks and enjoy the infrastructure that everybody else is enjoying throughout the city. Any great city is just a collection of great neighborhoods. And every great neighborhood has an excellent local school. And I mean a public school, not charter school. We are losing the middle class. In the top nine cities in the country, Dallas ranks number one in the number of children who are suffering from poverty."
Sheridan said he came to Dallas 33 years ago.
"I have been a political activist for 13 years," he said. "Jesus was unjustly persecuted and I'm being unjustly persecuted because an incident happened. I know the Bible is right, so somebody is wrong. I am an extremist. I respond in extreme ways to the extreme corruption and to the extreme lies in our government whether it is City Hall, Commissioner's Court, Austin, Texas, or Washington, D.C. We are in a very trying time because we are not being represented. The middle class is going down all across the country. My two major issues are racism and the Trinity River project. My third campaign issue is what is marriage? The gay community has gone way too far."