Monday Night Politics: Mayoral candidates
DIANE XAVIER | 4/13/2015, 10:11 a.m.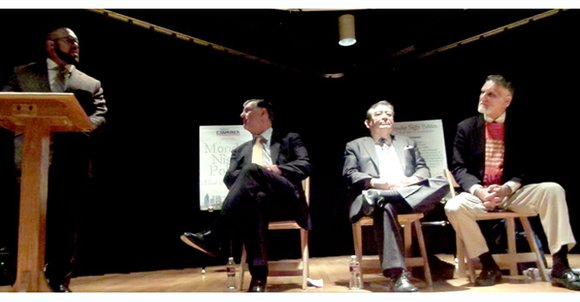 The first question for each candidate was about his vision of Fair Park and its future.
"This has been on my heart for the last four years," Rawlings said. "I created a mayor's task force which had some of the brightest people on the committee. They came back with some recommendations which included creating a public-private partnership because the city of Dallas does not have the manpower or marketing expertise to do that. Second, let's put a great park and put the park back into Fair Park and take away all these parking spots and lastly let's drop I-30 down so East Dallas can connect with South Dallas. I do believe in history because these buildings are historic in Fair Park. They got to be there."
Ronqullio said whether you have a task force on poverty or Fair Park, there are only two words that come to mind.
"Those words are dignity and respect," he said. "If you are going to look at Fair Park, you look at it as part of a neighborhood, a living and vibrating community. Yes, we can bring in our experts but I start with the basics. I hope that task force has input from the community and from people that have invested their time in the community. We have to respect the neighborhoods that surround Fair Park. It's just not about Fair Park, it's about a community. Fair Park happens to sit in that community. We also need to have more green space. I want to see the dollars go back into the community and not to some investment firm in New York. I want to see more minority vendors and see if the community is getting a piece of the pie."
Sheridan said he agreed with Rawlings and Ronquillo when it comes to the issues of Fair Park.
"I'm going to add to it in that Fair Park is a diamond in the rough," he continued. "There is a tremendous opportunity for entertainment and economic opportunity, including individual economic opportunity. For example, New York City has some great parks like Central Park, which is smaller than Fair Park. It's a private-public partnership and the concessioners bring to the city a $100 million dollars a year in tax money. Fair Park is a tremendous opportunity for entertainment, individual and even corporate profits. Right now, it is not being used the way it should be. I have a great objection to a $10 parking fee. We also need to develop Martin Luther King Jr. Blvd. like Jefferson Blvd."
Next, each candidate was asked their thoughts on having a weak mayor format for Dallas City Hall, where the city manager has more control and how they would work with the city manager.
Sheridan said he was opposed to a strong mayor format.
"The mayor does have power in terms of the bully pulpit," he said. "The mayor does have power if he can persuade the City Council to go along with his programs and the mayor and City Council can fire the city manager. As far as I am concerned, the city manager has not served the interest of our city but of special interest groups which we have to eliminate."