Celebrating the legacy of HBCUs
JESSICA NGBOR | 4/17/2015, 4:47 a.m.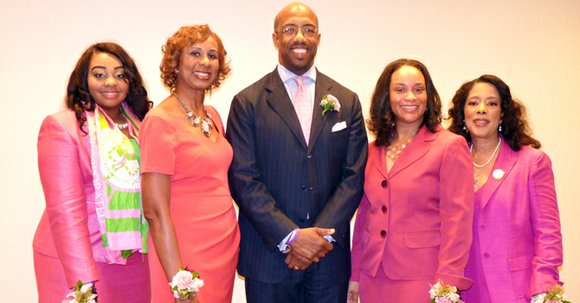 The Dallas Examiner
"Aspirations, Knowledge and Accomplishments" was this year's theme for the 27th annual Image Awards honoring Michael J. Sorrell Esq., hosted by The Legacy of Service Foundation and Alpha Kappa Alpha Sorority Inc. Omicron Mu Omega Chapter.
The event took place on March 28 at the Hilton Anatole with music selections by the Lancaster High School Tiger Jazz Orchestra featuring the vocalist Tatiana Johnson.
Individuals are nominated by the sorority and foundation and then voted on and picked to receive the award. The award is presented to an individual who has made a significant impact and contributions to the community. All proceeds of the event go to community development and service programs such as the Cachet Youth group, a mentoring and leadership program, and ASCEND, which gives students the opportunity to receive academic enrichment and life skills. The sorority and foundation are passionate about building and restoring the quality of life for all mankind.
Marvis Y. Lloyd, chairman of the foundation, and Dawn Funches Allen, president of the Omicron Mu Omega chapter, welcomed all attendees to the luncheon. Dr. Michael Bowie Jr. led the invocation.
"God we just give you thanks for the impact the Legacy of Service Foundation has had in the lives of many," he said. "We thank you that we can pause today just to celebrate the great contributions that HBCU's have had throughout this nation and the world. Today, we just pause to celebrate the honoree President Michael Sorrell. We thank him for his courageous and strategic risk-taking leadership. God when we looked up to find out who could bring hope to Paul Quinn, there was one man who said 'here I am lord, send me.' So God we thank you that he said yes to the calling, and now this city and this world is better because of his obedience."
Sorrell, 34th president of Paul Quinn College, was presented with an Image Award to honor him for his numerous contributions to the college and the community.
Sorrell discussed a few of the changes he has made since becoming president. Tearing down 15 abandoned buildings, partnering with PepsiCo to transform the unused football field into the two acre "WE over Me Farm," expanding the college and creating The New Urban College Model – a program that will cut out $10,000 of tuition and fees to attend. Paul Quinn was the first urban work college in the United States. Students who live on campus will receive their education and will also have jobs pertaining to their career path. "We thought text books were too high, so we got rid of them. Now we have open source textbooks. So from here on out, our students' textbooks all come from open sources which means there're free," Sorrell said. "We also decided we needed to do something about the K-12 education system, so starting next fall we have a chartered school being built on our campus."
"This is what is capable when you stand up, shake your head and decide now is the time," he exclaimed. "Now is the time we take back the legacies of our institution. They were founded by people who did far more with far less. They have created a place for people who have done extraordinary things. But I think if you spend too much time looking behind and not enough time looking ahead, we run the risk of becoming irrelevant and we will not be irrelevant."
The foundation presented Sorrell a $1,000 check for PQC.
"I want to let you know how much this award means to me. You had lots of people you could choose from and I thank you from the bottom of my heart. I don't do what I do for the awards, I do what I do because I love my students and I love my people and it is an honor to serve every day." Sorrell said.
Sorrell has won numerous awards, a few include: 2012 HBCU Male President of the year and "Root 100," the top 100 emerging leaders in America and minority business leaders from the Dallas Business Journal. Paul Quinn has won HBCU of the year, HBCU Student Government Association of the year and HBCU Business Program of the year.