Monday Night Politics forum features candidates for Dallas ISD – District 9
DIANE XAVIER | 4/17/2015, 4:52 a.m.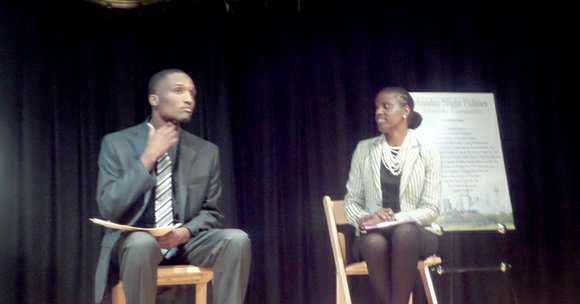 The Dallas Examiner
The final forum for Monday Night Politics–Meet the Candidates featured the Dallas Independent School District candidates for District 9, incumbent Bernadette Nutall and her opponent Damarcus Offord at the African American Museum on April 6. The May 9 ballot will include Dallas ISD Districts 1, 3 and 9.
During the forum, Nutall talked about her accomplishments as a Dallas ISD school board trustee since 2009.
"I am a mother and have been married for 18 years," she said. "In 1999, my sorority sister and I started the Girl Smart summer learning program and with that summer learning program, children lose 2.6 months of summer learning of math and reading during the summer time, so what we did was create opportunities and options for girls and boys in the Southern Sector of Dallas to gain more learning experiences during the summer. We started out at the Frazier Court House and development and now we service Pleasant Grove and Oak Cliff with 300 students during the summer time. We have seen an increase from 1.2 months of learning through pretests and posttests. We hire certified master-level teachers and do project-level based training for them in the summertime."
She explained why she first decided to run for school board in 2009.
"I decided to run because I wanted to do more for children," Nutall said. "All children deserve to have all the options and opportunities available. One side is that we collaborate with North Dallas to provide cross camp and provide various options that our students are not normally used to. The things that I have been advocating are for more resources for our schools. I believe students are the foundation and parents and teachers are the foundation of our education. We have to provide resources to teachers and our students so they can have great academic outcomes. If we don't support our teachers, custodians and our cafeteria workers, we are not going to get great academic outcomes. This top-down management style is not conducive in public education. You have to be collaborative in the schools and work with all the communities to engage them. You have to meet parents where they are and take them where they desire."
Offord then introduced himself to the audience.
"I am a product of Dallas ISD and the reason I am running for school board is because I believe deeply in my community," he said. "I think we had six years of current leadership with no results and I think it is time for the politicians of DISD and time for the bickering that is going back and forth to stop and put the needs of the kids first and the community needs first. We have to meet the parents at the doors and car doors because a lot of time we send information home to kids and that information doesn't get to the parents. So I believe we should meet the parents where they are. I believe it is time to sit at the table and have an educated discussion on our communities and bridge that north and south gap.