Around the State
The Dallas Examiner | 4/27/2015, 3:52 p.m.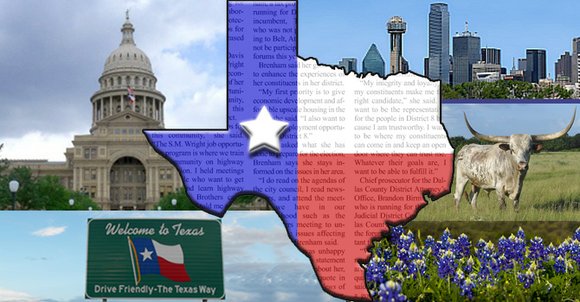 The Dallas Examiner
DALLAS
Mayor Pro Tem Tennell Atkins, along with councilmembers Carolyn R. Davis, Dwaine R. Caraway and Vonciel Jones Hill and other city officials to showcase new improvements and amenities recently completed on the Martin Luther King Jr. /Cedar Crest Bridge Gateway at a community celebration and ribbon-cutting event to be held Thursday from 6:30 p.m. to 8:30 p.m.
"Part of the overall Trinity River Project, the MLK/Cedar Crest Bridge Gateway brings two Dallas neighborhoods together," Mayor Mike Rawlings said. "Oak Cliff and South Dallas will always be separated by the Trinity River and the Great Trinity Forest, but the gateway project embraces these natural barriers and celebrates significant accomplishments from both neighborhoods," he said.
The event will offer entertainment, food and family-friendly activities. City departments will also be present providing information on services and resources.
"This historic bridge at the Trinity River in my neighborhood, gives this area new amenities and encourages getting out doors," Councilmember Carolyn R. Davis said.
One side of the Cedar Crest Bridge will be closed to southbound traffic during the event, beginning at 1:30 p.m. Northbound traffic will be temporarily converted into two-way traffic. Dallas Police will be on hand to facilitate traffic flow. Limited parking is available at both ends of the bridge.
"I invite the public to attend this fabulous celebration to see the new monument towers, the light features, banners and the overlook platform at the Trinity River," Caraway said.
DALLAS
Legends & Leaders Luncheon, presented by the Visiting Nurses Association, will be held April 23 at noon at the Hilton Anatole, located at 2201 N. Stemmons Freeway. The luncheon will benefit VNA Hospice Care and Meals on Wheels programs that allow our elderly, ill and disabled neighbors to age with dignity at home.
The keynote speaker will be legendary newsman and best-selling author Tom Brokaw. Brokaw has spent his entire distinguished journalism career with NBC News beginning in 1966 in the Los Angeles bureau where he covered Ronald Reagan's first run for public office, the rise of the Sixties counter culture, the assassination of Bobby Kennedy and the 1968 presidential campaign. He went to Washington as the White House correspondent during Watergate. He was the anchor and managing editor of NBC Nightly News with Tom Brokaw.
Additionally, Brokaw reported on more than thirty documentaries covering subjects ranging from AIDS, Los Angeles gangs, race, education, medicine, immigration and global warming.
For more information and tickets, contact Laura Muniz at 214-689-3484 or munizl@vnatexas.org.
DALLAS
City of Dallas Code Compliance Services and the Regional Hispanic Contractor's Association Inc. will present the sixth annual Community Outreach Code Conference on April 24 from 9:30 a.m. to 4:30 p.m. at Dallas City Hall.
Representatives from various city departments will provide information and answer questions about crime prevention; animal spay/neutering and adoption services; building permits and illegal structures; and illegal dumping.
Attendees will be given important code information and strategies to help keep their neighborhoods clean and neighborhood organizations will also be recognized for quality of life improvement efforts.