Obama, Castro seek a new dialogue and a new reality
ASKIA MUHAMMAD | 4/27/2015, 3:49 p.m.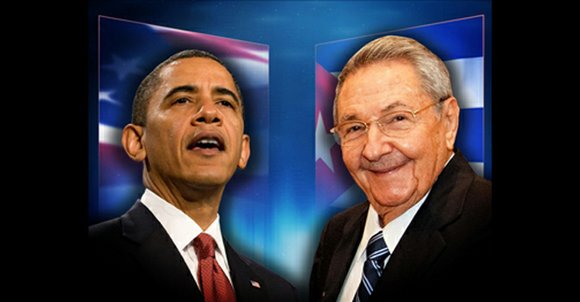 The Final Call
WASHINGTON (NNPA) – President Barack Obama added another notch to his diplomatic achievements-belt April 11, meeting for more than an hour in Panama City with Cuban President Raúl Castro, the first meeting between leaders of the two countries in more than 50 years.
Obama's historic trip began in Kingston, Jamaica, where he met with that country's Prime Minister Portia Simpson-Miller and the leaders of the Caribbean Community, an organization made up of 15 Caribbean governments. The U.S. and its sole ally in the region have been isolated from most of the governments of the Western Hemisphere over the harsh U.S. sanctions against Cuba. This trip however seemed to right those past wrongs.
Obama's weekend began with a visit and a wreath laying at Jamaica's Bob Marley Museum. That visit, the president told Simpson-Miller, was "one of the more fun meetings I have had."
She told Obama, "You're very loved in this country," and she expressed her "gratitude" for American support.
The United States is Jamaica's leading trade partner, main tourism market and chief source of foreign direct investment, she said. She also cheered Obama's push to normalize relations with Cuba, saying to him, "You are on the right side of history," according to White House reporters traveling with the president.
"What we want to do is find out how we can be an even more constructive partner" with Jamaica, the president said. He mentioned climate change, trade and security cooperation.
What Ms. Simpson-Miller did not discuss while reporters were present were calls from authors such as Mark Weisbrot, co-director of the Center for Economic and Policy Research, who wrote that the U.S. should "put an end to extreme austerity in Jamaica."
The next day at the meeting of the seventh convening of the Summit of the Americas, Obama told the leaders from Bolivia, Chile, Costa Rica, Cuba, Ecuador, El Salvador, Guatemala, Honduras, Mexico, Panama, Paraguay, Venezuela and Uruguay: "I am proud to be with you at this first-ever official gathering of civil society leaders at the Summit of the Americas. And I'm pleased to have Cuba represented with us at this summit for the very first time."
Obama emphasized his view that there is a "strong common agenda" among Western Hemisphere countries and stressed that what was good for the region is good for the United States, "not just because of proximity" but because of the "incredible bonds" between our peoples. "It is up to us to make sure the United States stands in solidarity and partnership with the countries around this table," Obama said.
He noted criminal elements and narco-trafficking "thrives when people feel they have no other pathway to success." Since he took office in 2009, Obama said that exports from the U.S. to Latin America and imports from Latin America to the U.S. are up 50 percent. That is "an indication not only of the recovery that was initiated by important policies that were taken, but the continuing integration that's going to continue to be taking place in this hemisphere."