Lyrical prose: Justus on the Expressway
Robyn H. Jimenez | 4/30/2015, 10:59 a.m. | Updated on 4/30/2015, 12:03 p.m.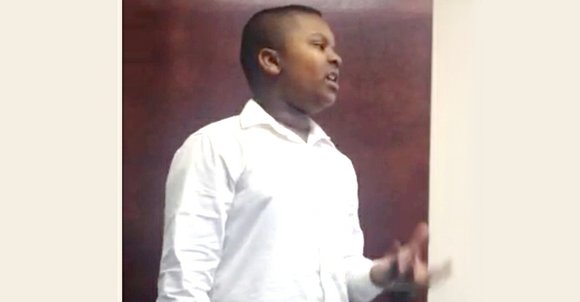 The Dallas Examiner
"Lock in tight, live for the fight, clamp down on life, and just ride," wrote Justus Le'Derrick Clark as part of his latest endeavor.
Justus is a 12-year-old with big dreams and ambitions. He's so anxious to make them come true; he's already started on one of them. While still in the eighth grade, Justus wrote and published his first book of poems, Expressway.
"I started writing when I was 8," he recalled. "When I was in the third grade. I really didn't get into it until I was in the sixth grade. We had an assignment in class and it was to write a book of poetry and when I wrote it, my teacher was really impressed by my quality, my metaphors and my similes. And he had me present it in front of the class. Ever since then I've just been writing."
The young poet said that he's been inspired to write by everything around him – his own life experiences, the world around him and music. Depending on the piece, it can take him anywhere from 30 minutes to a week to complete a poem. But for him, each moment is priceless and gives him a great deal of satisfaction.
"It makes me fee like I'm on top of the world," he said proudly. "Like I'm the CEO of my own company. Like I'm somebody really, really important."
Of all the poems that he has written, his favorite work is The Ride. It describes a moment when he had a disagreement with his mother that led him to storm off to his room. Yet, instead of letting his anger get the best of him, he acknowledged his mother's wisdom and reflected on her words of guidance.
Justus writes lyrical poetry as well as imagery poetry and intends to write several books.
"I actually have enough poems for another book, and a third one as well, but I'm trying to get this one going right now," he stated.
Expressway is currently sold online at Tate Publishing, Amazon, and Barnes and Noble. Young Justus also sells single copies of his book that he hopes will be widely read and enjoyed by other teens.
"I want [my book] to be successful. I want to be successful," he clarified. "But I don't want people to think I wrote the book to gain wealth or to be popular, or anything like that. I wrote it to – like the title says – express myself."
Justus' favorite subject is English and he likes to read as well as write stories and monologues. He enjoys reading, but especially enjoys the work of Maya Angelou, Langston Hughes and Daniel Keys.
"Anything we may read, it just appeals to me for some reason. I'm working on writing short films," he expounded.
By the time he graduates high school, he may have three published books to add to his resume. But being an author is only one of his career options.
"I'm really good at science so I may become a marine biologist or I'm going to be a writer," he explained, leaving room for the possibility of doing both.