Caraway enters the race for Commissioners Court District 3
MIKE McGEE | 8/3/2015, 12:09 p.m.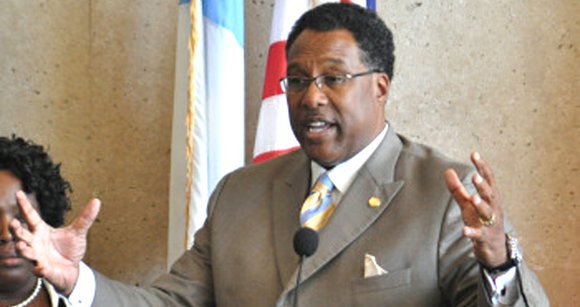 The Dallas Examiner
Controversy and speculation followed Dwaine R. Caraway's recent announcement of his 2016 candidacy for District 3 commissioner of the Dallas County Commissioners Court, currently held by Commissioner John Wiley Price.
Caraway, who served as City Council representative for District 4 and stepped in as mayor when Tom Leppert resigned in 2011, said that he had been planning for the last three years of his council tenure for a continued role in public service once his time at City Hall ended.
"When you look at the fact that I spent eight years on [the] Dallas City Council, have learned, and produced results for Dallas – in serving, you learn how to connect. When you look at the things that need to be connected and the opportunities of connecting the 16 cities in District 3 of the county commissioners' districts, you get a better picture – have a much better understanding – of the need and opportunity of being able to make the best series of adjustments of change," he said of the assets he would potentially bring to the office of county commissioner.
Caraway's resume also includes co-founder of the Grambling and Prairie View Football Classic with business partner Al Wash; chairman of the City of Dallas Fair Park Trust Fund; and vice president of the Dallas Parks and Recreation Board.
Service to the city dates back to the 1980's for both candidates.
Price, Dallas' first Black commissioner, has served on the Commissioners Court for more than 27 years. However, after an FBI raid of his house on June 27, 2011, Price was arrested and charged with 13 counts, including conspiracy to commit bribery and depravation of honest services by mail fraud – to which he pled "not guilty." Just one year ago, after a lengthy investigation, he was indicted last year on the federal corruption charges. However, various outlets report that Price will seek reelection.
Caraway denied that the timing of his run had any connection to Price's legal challenges.
"None at all. None whatsoever," he stated. "I have been looking at where and how I could best contribute to the constituency of Dallas County for a number of years. Remember, serving on City Council, our terms are limited."
Caraway explained that it seemed like a good time to run.
"I think fresh, new ideas should be welcomed. There are other heights and other opportunities that I think that folks should seek, as I'm seeking and others have [sought], to go up and take their learnings and expansions to yet another level," he affirmed.
"Because at the end of the day it all boils down to representing the people in Dallas and Dallas County and the region of Dallas."
Caraway acknowledged some specific issues that he would bring attention to should he prevail in the election. He gave the county's budget as one example, saying that the county's budget impacts the city's budget and insisted that a commissioner who had familiarity with the coffers of both government entities would be able to greater serve the area.