Little Girl Dreams: A dancer's journey from an orphanage to center stage
JORDAN LEVIN | 8/3/2015, 12:05 p.m.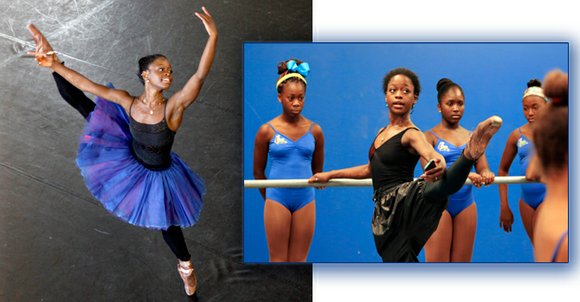 MIAMI GARDENS, Fla. (AP) – The extraordinary arc of Michaela DePrince's life has taken her from African war orphan to international ballerina and cultural heroine.
Perseverance and strength of spirit have been as important as luck and talent for DePrince, 20. Her dramatic story led to her being featured in the 2011 ballet documentary First Position and to appear on Dancing with the Stars. She has written an autobiography, Taking Flight: From War Orphan to Star Ballerina and a TED talk about her experience. In Europe, where she dances with the Dutch National Ballet, she is a celebrity.
She is also committed to using her fame to help young African American dancers like those at BE Dance Studios in Miami Gardens, where she recently spent a week teaching and speaking. She hopes to inspire them to overcome obstacles, whether it be insecurity about their bodies or talent, difficult circumstances or the prejudice that enshrines pale, pristine ballerinas.
"I've always wanted to be a role model, especially to young Black girls," said DePrince, who has taught at schools in Brooklyn and South Africa. "I think I can inspire them to just push and believe in yourself and become whatever you want. I've been through so much, but I was able to go forward to what I've always believed in."
She is a heroine in the dance world.
Studio owner Perpetua "Peppie" Phillips took her students to see First Position, which focuses on DePrince and other competitors at an elite ballet competition. Photos of her and Misty Copeland, another famous African American ballerina, decorate the studio. Recently, several dozen girls, from 3-year-olds in sparkly pink dresses to earnest teenagers, crowded the studio for a book signing and talk.
"I didn't believe she was actually coming," said Regina Delancy, 13, who recently took a class with DePrince. "It's an honor and a great experience for someone as great as her to be here and to teach us what she knows. If she can make it that far she can show other people they can do the same."
DePrince's story is as horrific and miraculous as that of any enchanted swan queen or princess. Born in a small village in Sierra Leone in West Africa, she was 3 years old when her father was killed by rebel soldiers in a massacre at the mine where he worked. The uncle who grudgingly took in DePrince and her mother gave them so little to eat that the mother, who often gave her food to her daughter, died of starvation. The uncle took DePrince to an orphanage, where the female caretakers abused her and called her a devil's child because of white blotches on her skin, caused by a skin condition called vitiligo. She watched a gang of rebel soldiers kill the teacher who was the only woman who was kind to her, slashing open her pregnant belly and threatening to kill DePrince when she protested.
Hope literally flew into her life when the wind blew an old copy of Dance Magazine against the bars of the orphanage gate. On the cover was a photograph of a ballerina in a pink tutu. And DePrince, who had never seen a White person, much less a ballet dancer, latched onto the image.