STEM Institute inspires the minds that shape the leaders of tomorrow
MIKE McGEE | 8/3/2015, 7:45 a.m.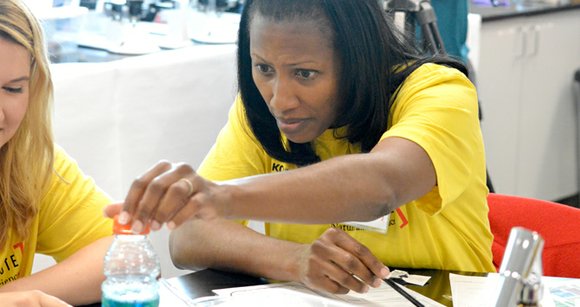 The Dallas Examiner
"You impact the children, you impact the world," Allison Burney expressed during the announcement of the new Kosmos Energy STEM Teacher Institute at the Perot Museum of Nature and Science on July 13 at The Hockaday School campus.
Burney, an eight grade science teacher, participated in the science, technology, engineering and math training program and described it as a "turning point" in her career.
"Participating … both strengthened my science content knowledge but also my instructional practice," she said. "It also gave me the confidence to teach science content and inspire the next generation of scientists."
Recognizing that teachers play a critical role in inspiring students to take STEM classes in college and pursue STEM-related careers, the program is designed to enrich the knowledge of current classroom educators. It will provide professional development opportunities for kindergarten to 12th grade STEM instructors, said Colleen Walker, the Eugene McDermott CEO for the Perot Museum. Hockaday currently serves as the institute's first satellite campus.
The program began in the spring of this year and will continue through the school year with five professional development sessions held on weekends twice a month, according to a statement released by the Perot Museum. Teachers will earn continuing education credits; meanwhile, the program is estimated to indirectly affect more than 4,800 students during the 2015-2016 school year.
The institute is funded by a multi-year grant from Kosmos Energy and has partnerships with The Institute of Museum and Library Services, The Community Impact fund from The Dallas Foundation, Alliance Data and ExxonMobil, stated the CEO.
"There is a great hunger for STEM education," Walker decreed. "The U.S. Department of Commerce predicts that STEM-based jobs will grow twice as quickly as any other non-STEM occupation and we know that these careers can be exciting, well-paying and meaningful and even life-changing."
To further illustrate the desire to improve STEM programs within the Metroplex, Walker noted that when the application process for the institution began, all 150 openings were filled "almost immediately."
"We deeply appreciate, and we value, our teaching colleagues – and we know that they play one of the most instrumental and crucial roles in inspiring minds to pursue any task forward," she stated on behalf of the institute partners. "And we want to make sure they are well, well-equipped and equally inspired to inspire our students in STEM subjects."
Walker underscored the necessity of such an institute, as she noted public school students do not get state-mandated science testing until the fifth grade; children who are found to be struggling with math and science concepts at that point may already be behind academically. Furthermore, Walker remarked that while elementary school teachers can have specialized training in math and science, the state does not require such particular training.
She also indicated that a lack of effective, early STEM education often results in high school students eschewing science and math classes; instead, they may enroll in other classes simply as a way to get into college as opposed to further prepare themselves for science careers.