STEM Institute inspires the minds that shape the leaders of tomorrow
MIKE McGEE | 8/3/2015, 7:45 a.m.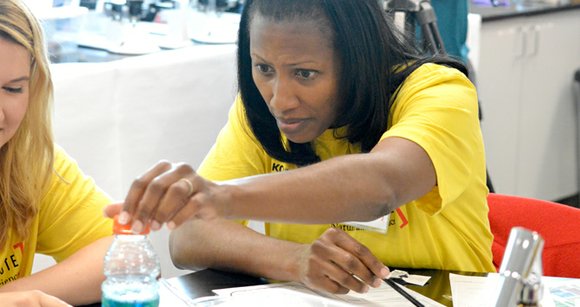 Factors such as these have led to efforts like the Seeds to STEM program in the Southern Sector of the city or the National Society of Black Engineers Summer Engineering Experience for Kids to get more African American children involved with educational science activities at both the local and countrywide levels.
"So bottom line: we've got some work to do," Walker added.
The day's announcement coincided with an ongoing summer session for local teachers who were accepted into the Institute. The week-long training conference organized teams of instructors who then participated in hands-on experiments such as the investigation into the principals of fluid displacement and density. The goal for the session was twofold: to help ground STEM teachers' knowledge further in physical science and to assist participants in discovering innovative teaching techniques to take into their schools.
Felecia Brewster, a DeSoto ISD magnet schoolteacher, made a discovery of her own during the testing of liquid density principals.
"It seemed to change also when we added the color. What did that do?" she asserted about the team's fluid experiment.
"That's something for us to explore," instructor Nicole Hernandez answered.
During a break from the session, Brewster gave her impression of the importance of the institute's objective.
"In my elementary we've been designated the STEM school; actually, it's STEAM – science, technology, engineering, arts and math," she explained. "So I'm soaking up as much as I can as it relates to STEM … and trying to incorporate that into what I'll be doing in my position. I'll be responsible for first through fifth graders so all of this is something that will really add to my resume. But as well, it'll ramp up my knowledge base."
Representatives of the institute stated that its goal for the joint program is to equip teachers at all levels with the knowledge, tools, creativity and enthusiasm to increase interest and engagement among their students in STEM subjects.
"By preparing teachers for success, especially those who teach our youngest children – and I have two young children – I know that can dramatically affect the trajectory for science education," Walker declared.