Activists call for federal investigation into death of Sandra Bland
FREDDIE ALLEN | 8/7/2015, 3:03 p.m.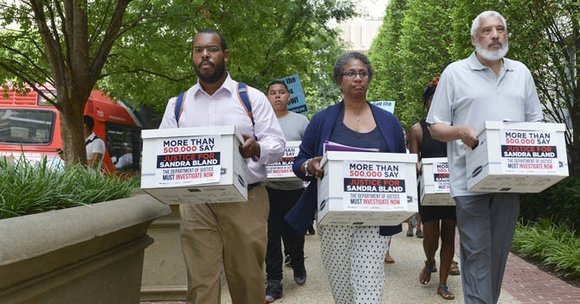 WASHINGTON (NNPA) – A broad coalition of civil rights groups delivered more than 500,000 signed petitions to the Justice Department demanding that Attorney General Loretta Lynch launch a full investigation into the death of Sandra Bland and into the practices and policies of the Waller County, Texas, police department and the prosecutor's office immediately.
While visiting Prairie View A&M University, a Historically Black College and University, in preparation for taking a job there, Bland, a 28-year-old graduate of the school, was pulled over for a minor traffic violation on July 10. That traffic stop escalated to an arrest and on July 13, Bland was found dead in a Waller County jail cell.
As news spread of Bland's mysterious death while in police custody across social media, civil rights groups decried another example of driving while Black and police brutality.
The #IfIDieInPoliceCustody hashtag trended on Twitter following Bland's death.
During the press conference about the petition last Thursday, Lois Wilkins, a resident of Freeland, Michigan, and a mother of four who started the petition on MoveOn.org, recounted a conversation that she had with her daughter Ebony Joy, who felt a strong connection with Bland's life and tragic death. Ebony also admired Bland's work as an activist and her decision to return to her alma mater to mentor the next generation of Black leaders.
"She said, 'Mom, I could have been Sandra Bland,'" Wilkins remembered. "'And if I die in police custody, I want you to know that I did not commit suicide.' It was at that moment that I had no choice but to act."
Wilkins, who described herself as an educator and a small business owner, said that she started the petition because it is time for change.
"As an African American mother, I am appalled at the stealing of our children and our future leaders and this is totally unacceptable to me," Wilkins said.
Eugene Puryear, who works with the Stop Police Terror Project in Washington, D.C., a group committed to ending racist, militarized policing in the U.S., said that activists don't need to appeal to institutions, they need to transform institutions.
"The petitions are not just names on pieces of paper, they represent the power of a potential mass movement in this country that has already changed the conversation," said Puryear, referring to the on-going dialogue about criminal justice reform.
Wilkins said that as a mother, she was tired of these untimely deaths at the hands of police officers and that she was also tired of being afraid for the lives of her four adult children.
"As a mother, I am sick and tired of being sick and tired," Wilkins said, quoting Fannie Lou Hamer, the late Mississippi civil rights activist.
Rev. Graylan Hagler, senior minister of the Plymouth Congregational United Church of Christ and the executive director of Faith Strategies, a human and civil rights group in Washington, said that the abuse that Blacks suffer at the hands of police is nothing new. He said the only difference is that now everyone has a recording device in the palm of their hand, ready to expose police misconduct.