Broken Promises, Bias, Brutality & Bail
Black attorneys battle inside a criminally unjust court system
CHARLENE MUHAMMAD | 8/7/2015, 2:52 p.m.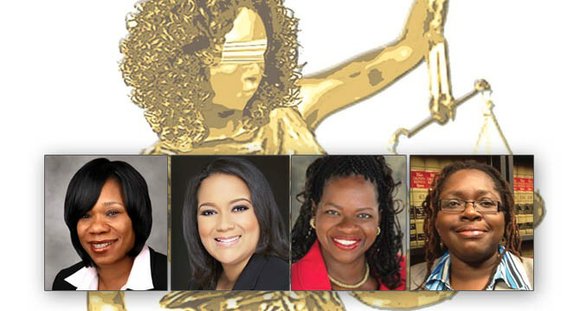 LOS ANGELES (NNPA) – The National Bar Association's 90th annual convention's message of fighting police brutality mirrored the fight Black Americans face every day.
The convention, with its theme "A Legacy of Service. A Promise of Justice," centered on police brutality and highlighted problems and solutions to why Blacks continuously suffer injustice.
Members of the nation's largest and oldest organization of Black lawyers met at the downtown Westin Bonaventure Hotel, July 19 through July 23.
"A number one issue this year was police brutality, and although I did not think that it would be the centerpiece of my administration, that's exactly what it was," said Pamela Meanes, outgoing NBA president.
During her president's reception, a video showcased the year-long efforts of the organization's Police Misconduct Task Force and Criminal Law Section.
During her tenure, members worked to back a movement against police brutality by hosting forums and discussions, proposing federal laws, educating Blacks about their rights when encountering law enforcement, and demanding Justice Department intervention in excessive force cases. The organization's fight against police brutality will continue, she said.
Federal legislation
The NBA is advocating for four federal laws tied to police reform: One mandates officers wear federally funded body video cameras on duty; a second establishes federal standards for use of force training and tactics; a third requires police departments to conduct annual training in de-escalations; and a fourth would require police departments to enact a policy requiring officers observing other cops using excessive force step in.
Justice or Else!
The suspicious July 13 jail house death of Sandra Bland in Prairie View, Texas, occurred one week before the Black lawyers gathered. Her death underscored one of many reasons why police brutality was prominently featured during their annual meeting, noted attorney Benjamin Crump, whose firm, Parks and Crump, represents the Trayvon Martin, Michael Brown Jr., Chavis Carter and Victor White, along with other families in other high-profile cases involving police shootings or suspicious Black injuries or deaths.
"It's unfortunate that we see these tragedies happening almost weekly now. It says a lot to the police culture as it relates to their interaction with people of color, in many instances as we see from video, unarmed people of color," Crump said.
Even before he was sworn in as its 73rd president on July 23, Crump had endorsed "Justice or Else," the 20th anniversary gathering of the Million Man March. The Honorable Minister Louis Farrakhan issued the clarion call for the gathering on Oct. 10 to answer a critical cry for justice.
Crump said he recently had the honor and privilege of meeting with Farrakhan about the challenges facing the Black community and preventing what appears to be the sanctioned killing of unarmed people of color.
He applauded Farrakhan for speaking out against injustice, saying if Blacks don't speak up, stand and fight, nobody's going to do it.
"All our civil rights leaders have to speak to the issue. We have to make the narrative very clear, straightforward that we are fighting for the lives of our children, and that's why I endorse the 20th anniversary of the Million Man March-Justice or Else, because we, like all Americans, only want equal justice for our loved ones and our family and our children, too," Crump stated.