Music, Magic and Memories of Motown
Musical delivers convincing flashback of music legends
MIKE McGEE | 8/7/2015, 7:07 p.m.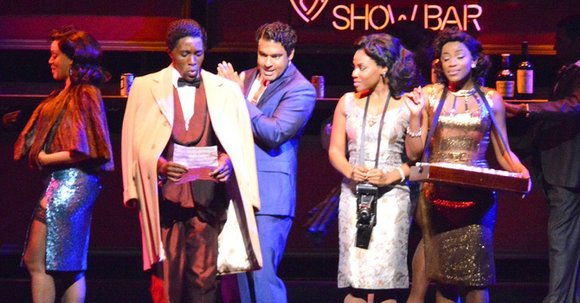 The Dallas Examiner
Motown: The Musical is a hit-filled festival of song and dance where performers convincingly take on the personas of recording legends such as The Four Tops, Smokey Robinson and the Miracles, The Temptations, The Contours, Stevie Wonder, The Jackson 5, Marvin Gaye, The Supremes, Rick James and many others. More than 50 songs round out the production's score, showing at the Margot and Bill Winspear Opera House downtown until Aug. 16.
The show, based upon Barry Gordy's book To Be Loved: The Music, The Magic, The Memories of Motown, takes the audience through the personal life and business dealings of the Motown Records founder (Josh Tower), his longtime love Diana Ross (Allison Semmes), his sometimes volatile stable of young talent, all of which plays out upon the social and political changes of America from the 1930s to 1983.
World events began influencing Gordy's outlook at a young age, according to the show's script. A pivotal moment for the future mogul was the 1938 World Heavyweight Boxing Championship – a contest between American Joe Louis and Germany's Max Schmeling. After Gordy (Nathaniel Cullors) learns of Louis' win, his mother (Trisha Jeffrey) points out that the match was more than just a battle between two athletes; it represented a struggle between a segregated America that still held the potential for a more positive future and the dominance of a nation already lost to Nazi racial tyranny.
"Son, Joe Louis is a hero to all the people – and he's Black, like me," his father in tears remarks.
"I want to be Joe Louis," the younger Gordy happily expresses. His father (Nik Walker) points out that there already is a Joe Louis; Barry's destiny lies not in repeating the successes of another man but instead becoming the best individual that he can be.
"Motown music was the face of things, the music in the street, for our country and our nation," said cast member Elijah Ahmad Lewis, who plays multiple roles in the show, including Levi Stubbs and Stevie Wonder. "It was the soundtrack to everything that was happening. With war, with racism, with everything that was going on."
What was going on throughout Gordy's tenure at Motown included conflict inside the company over the sales department's all-White staff and rebellion of the songwriting-producing trio of Eddie Holland, Brian Holland and Lamont Dozier.
Larger still was the turmoil of police brutality, desegregation, the 1967 Detroit race riot and the seemingly endless war in Vietnam. The musical depicts Gordy hiring a Black Power protester as a way to use her energy for the good of the company while she focuses her passion at the label toward further equality for her people. Unforgettably, Marvin Gaye provides a theme song of sorts for the era with his melodic, spell-binding What's Going On, executed with heartfelt perfection by cast member Jarran Muse.
"It just told the whole story of what was going on, through music," Lewis continued as he described the philosophical sounding board the Motown label became. "It broke barriers, and it changed the course of how music was done and operated and achieved, and how people took it."