No place to call home
Assisted living center accused of mistreatment abandons man in ER
NORMAN J. DOTSON JR. | 8/7/2015, 3:07 p.m.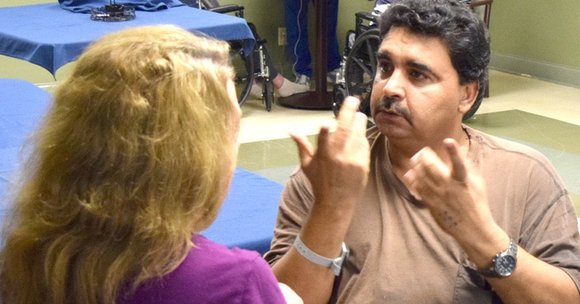 The Dallas Examiner
Falsely accused of attempting to commit suicide, deaf and blind man Ahmed Al Ghazawi spent a little over a week living in a chair at a psychiatric emergency center after being illegally removed from his residency at Heritage Square Assisted Living earlier this month. The facility, located at 500 S. Beach St. in Fort Worth, opened its section for deaf/blind citizens in 2011 and was the only facility capable of meeting Al Ghazawi's needs because he is considered both blind and deaf.
Al Ghazawi, a United States citizen born in Iraq, was unlawfully ejected from the Fort Worth assisted living center after his legal guardian, DFW International's Community Alliance President Anne Marie Weiss-Armush, wrote a letter of complaint to the center's director, Carl Earwood, on the first of July.
In her letter, Weiss-Armush detailed nearly a dozen infractions to Al Ghazawi's care while she was briefly out of the country on vacation, including the discontinuation of video phone services, having Al Ghazawi sign documents without her being present, and denying him assistance in contacting his sister.
"There was this pattern of negligence and abuse, so when I came back from Spain I gave myself a couple of days to get my thoughts together and I sent him [Earwood] a letter telling him 'there were nine things that I noticed while I was away, can you explain these things to me?'" Weiss-Armush stated. "Their answer was to expel him."
A facility cannot transfer or discharge a resident until the 30th day after the date the facility provides written notice to the resident or their legal representative. The notice must also include the facility in which the resident is being transferred or discharged to, the reason behind the transfer or discharge, the effective date, and any rights of appeal available to them, according to the Texas Department of Aging and Disabilities Services' bill of rights for residents. None of the aforementioned were included in the correspondence between Earwood and Weiss-Armush.
Instead she received an e-mail the morning of Ahmed's ejection only stating that he was being removed and that she had not responded to an e-mail or certified letter sent to her on June 25, only eight days before his eviction.
Al Ghazawi, who has about 10 percent vision in one eye, alleges that there was suspicious behavior from Earwood for several months leading to his eviction.
"After my phone services were cut off I noticed that whenever I used the public phone that he [Earwood] would be standing near me like he was listening to my conversation," Al Ghazawi said via sign language and an interpreter.
The 42-year-old Al Ghazawi broke into tears after retelling his experiences leading up to the morning of July 2. He went into detail about his eviction stating that the police arrived with no interpreter to explain what was going on. Although they were polite and smiling, they did take him away in handcuffs and transport him to John Peter Smith's Psychiatric Emergency Center. According to Weiss-Armush, the doctors could not admit him into the hospital because there was nothing that they could find that required him to be admitted. Instead, he spent eight days eating, sleeping and waiting in a chair in the emergency room.