Black male enrollment declines in medical schools
FREDDIE ALLEN | 8/17/2015, 2:23 a.m.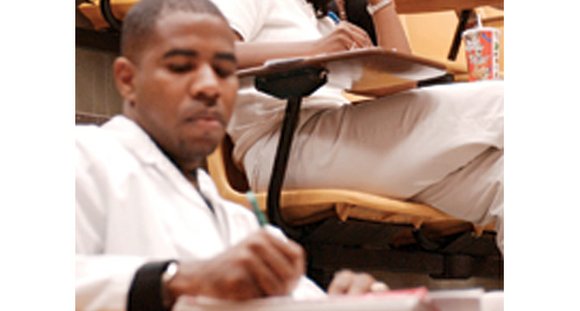 WASHINGTON (NNPA) – The number of Black males applying to medical school is lower than it was three decades ago, raising concerns about the United States' future ability to have health care providers be as diverse as the patients they serve, according to a new report by the Association of American Medical Colleges.
"No other minority group has experienced such declines," wrote Marc Nivet, the chief diversity officer for AAMC, in a foreword for the report. "The inability to find, engage, and develop candidates for careers in medicine from all members of our society limits our ability to improve health care for all."
The AAMC report titled, Altering the Course: Black Males in Medicine, paints a stark image of the current science, technology, engineering and math pipeline and specifically how ineffective it has been with motivating young Black males to pursue medical careers.
In 1978 there were 1,410 Black male applicants to medical school. By 2014, however, that number had declined to 1,337, according to the report.
"A similar trend is observed for first-time matriculants: in 1978, there were 542 black male matriculants to MD-granting institutions, and in 2014, there were 515," the report said. "In addition, of all racial and ethnic groups, the proportion of applicants to medical school who were male compared with female is lowest for African Americans – despite an overall increase in the number of Black male college graduates."
The AAMC represents 144 accredited medical schools in the United States, 17 accredited Canadian medical schools and nearly 400 major teaching hospitals and health systems.
The push to get more young minorities to embrace STEM careers comes at a time when researchers are predicting a shortage of 46,000 to 90,000 physicians by 2025 and studies have shown that increasing diversity in medical schools and in health care professions can boost civic engagement, expand exposure to different educational approaches and make it easier to recognize racism, the report said.
In a statement accompanying the report, Darrell G. Kirch, the president and CEO of AAMC, said that health care professionals have to work harder to get more young Black males into the talent pipeline to increase diversity in the physician workforce.
"The nagging challenge of health disparities requires all the best minds and perspectives," Kirch said. "Altering the Course is just the first step in identifying the problem. The AAMC looks forward to working with the [National Medical Association] to begin implementing solutions."
In 2006, more incoming Black male freshman (37.5 percent) than Black females (31.9 percent) reported that they intended to major in a STEM field, but four years later, "female African-American students received the majority of overall science and engineering degrees, totaling 100,435, while male African-American students received 51,969 science and engineering degrees," the AAMC report said, citing a study by the National Science Foundation.
A limited pool of scholarships and the staggering cost associated with earning a medical degree were identified as key challenges to getting more Black males into the medical school pipeline.
More than 30 percent of all 2014 medical school graduates reported that they accumulated a total education debt amount that eclipsed $200,000; meanwhile nearly 42 percent of Black male medical school graduates amassed that much debt.