Straight Outta Compton
DWIGHT BROWN | 8/17/2015, 10:01 a.m.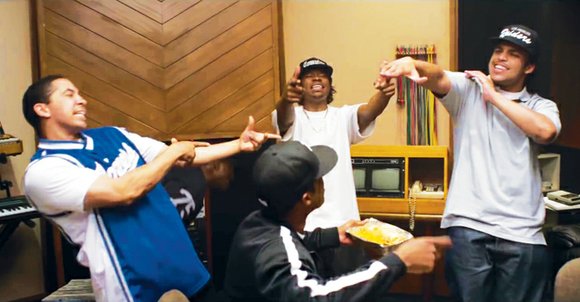 – Film Review –
(NNPA) – Warning: This isn't some chump change Sundance indie movie about the rap group NWA. Nor is it a should-have-gone-straight-to-DVD afterthought about hip-hop culture. This is a full-fledged, big-budget looking homage to the Los Angeles rap scene that smartly, emotionally and historically capsulizes the life and times of Eazy-E, Ice Cube, Dr. Dre and everyone around them who caused the big bang that popularized West Coast rap music. This is an Oscar-caliber film. This movie is a monster.
You'll need to give your undivided attention to the 2 hour, 22 minutes of footage. Blink or go get popcorn and you'll miss an integral piece of music and cultural history that defined the times. You won't learn how legendary rappers such as Tupac and Snoop Dogg entered the rap scene, or how Suge Knight hooked up with Dr. Dre, or how Dr. Dre met producer Jimmy Iovine.
From the film's first moments, you know you're experiencing greatness because everything seems so real: the visuals of Compton streets, the strong bass beats in nightclubs, the ghetto fabulous clothes, the Jheri curls, the police arrests. The performances, the dialogue, the plotline – it's all amazingly authentic. It's as if you are a fly on the wall peeking in or a narc during a drug bust watching it all go down.
Instantly the thought occurs: Who orchestrated all this and why is it so good? Once you read the productions notes, it all makes sense. Ice Cube (Friday), Dr. Dre and Eazy-E's widow Tomica Woods-Wright are co-producers of their own story. F. Gary Gray, who shot Ice Cube's videos (e.g. True to the Game) back in the day, and has gone on to direct urban dramas (Set it Off) and comedies (Friday), is at the helm. That's why what you're viewing is so graphic. These guys lived it. They're just sharing their experiences.
It's 1986 and 16-year-old O'Shea Jackson, aka Ice Cube (O'Shea Jackson Jr.), is getting involved in drug deals that don't end well. Twenty-one-year-old Andre Romelle Young, aka Dr. Dre (Corey Hawkins), is a wannabe record producer/DJ still living with his mom, Verna (Lisa Renee Pitts), and his younger brother. He's focused on his music and not working. Mom, who had him as a teen and is holding down two jobs to make ends meet, isn't having it. She's in his face: "People said I would be shit. You would be shit. I've worked hard. I refuse to let you throw that all away!" Next thing you know, Dre is out on the streets, with his prized LPs in tow, couch-surfing. Eric Lynn Wright, aka Eazy-E (Jason Mitchell), uses his entrepreneurial skills selling drugs, but at age 23, he's burned out and the thugs he does business with are dropping like flies.
Call it a confluence. The three decide to pool their talents and change their focus to writing, producing and performing rap music. Now, Dr. Dre is a DJ in local Compton clubs, working alongside DJ Yella (Neil Brown Jr.). Ice Cube and MC Ren (Aldis Hodge) are young emcees starting to form fierce rhymes. Eazy-E has enough drug money to invest in producing. He becomes the leader. They form Ruthless Records, cut music and become NWA – Niggaz Wit Attitudes. An ambitious music manager, Jerry Heller (Paul Giamatti), promises them gigs and a future. The rest is history, or urban folklore, depending on how you look at it.