Saddened by death of Julian Bond, champion for justice
JESSE L. JACKSON SR. | 8/24/2015, 7:21 a.m.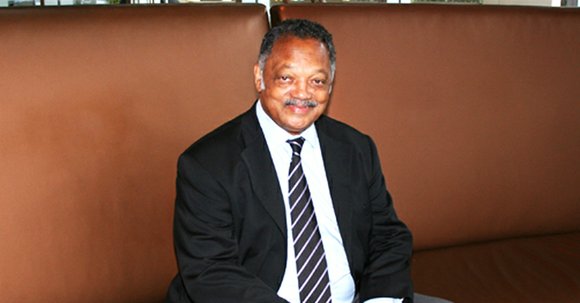 (NNPA) – The news this weekend that Julian Bond passed away at 75 saddened me deeply. America has lost a true and still vital champion for justice. President Obama, hailing Bond as a hero and a friend, noted that "Julian Bond helped change this country for the better. And what better way to be remembered than that."
At a very young age, Bond helped forge the emerging Civil Rights Movement, and was in many ways a founding father of the New South that we now see still in formation. In 1957, as a student at Morehouse, son of a college president, varsity swimmer, head of the literary magazine, intern for Time magazine, he was on the path to success.
But the success he chose was to make history, not money. He was arrested after organizing some of the first student demonstrations to desegregate Atlanta's lunch counters, parks and theaters. Realizing that young people could take risks too costly for adults with families, at 20, he helped found SNCC, the Student Non-Violent Coordinating Committee. He became its secretary and head of its communications in part because he was seen as organized, level-headed and eloquent.
Julian was ahead of most in the movement for understanding the big picture. He realized that civil rights could not be achieved without economic rights, and that economic rights would not advance if America kept throwing resources and lives into war abroad. He became an early and outspoken critic of the Vietnam War.
After the passage of the Voting Rights Act in 1965, Julian led voter registration drives. At the remarkable age of 25, he was elected to the Georgia State House. The sitting legislators demanded that he repudiate his opposition to the Vietnam War. When he refused, they refused to seat him. Three times his constituents reelected him, three times the House denied him his seat. Finally, the Supreme Court ruled their actions unconstitutional. In January 1967, Bond took his seat, and served in the state House and Senate for the next two decades.
By that time he was a national hero for having stood on principle even at the cost of his political career. In the embittered 1968 Chicago Democratic Presidential Convention, Bond led an insurgent Georgia delegation and was stood to second the nomination of Eugene McCarthy for president.
With the convention floor in bedlam and demonstrations raging outside the hall, Bond was nominated as vice president, a symbolic nomination (he was only 27 and the constitutionally required age is 35) "about the wave of the future."
Bond served as legislator, scholar, teacher and leader. He was a founder and first president of the Southern Poverty Law Center. He taught at the University of Virginia and lectured widely, receiving more than 30 honorary degrees. He chaired the NAACP for 11 years.
He had experienced first-hand the slight and shackles of segregation – and organized to end them. He knew first-hand the suppression of the right to vote and helped build a movement to challenge that.