Business as usual
Millennial tech society still good ol' boys club?
KENYATTA GIDDINGS | 8/31/2015, 7:43 a.m.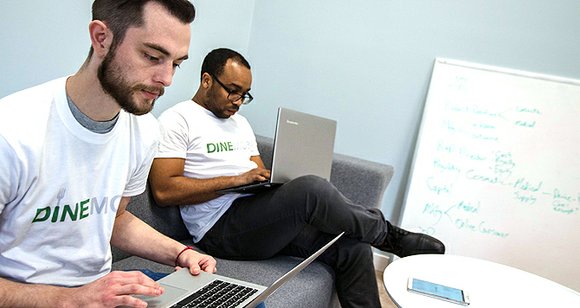 The Dallas Examiner
Startup culture: A business atmosphere that focuses on creative problem solving and direct leadership-to-staff open communication without middle management.
Coworking spaces: A shared working environment, often an office space that offers individuals or small groups with different businesses or projects to share space.
Accelerator programs: Programs that provide mentorship, educational opportunities and meetings to allow entrepreneurs and startup groups to present pitches and demonstrations for seed money.
With words like these becoming more commonplace, it may seem to many that Dallas/Fort Worth has turned into one big hackathon overnight – a world of hardware and software developers and programmers, along with graphic and interface designers – especially with millennials of both the first and second wave flooding the coffee shops, eager to share their experiences in this unpredictable town of tech-fueled ingenuity. But while entrepreneur conferences and pitch contests draw crowds and yield results, this does not make a completely reformed Dallas.
"I haven't met a Black investor yet," said Malcolm Woods, CEO and co-founder of DineMob, a mobile app that connects digital influencers with trendy restaurants. "A lot of the people investing in Dallas made their money from oil and real estate, so these are the people I've been dealing with."
This traditionally conservative investor climate grows into a wary one when many of the city's startups leave much to be desired, especially in comparison to more established startup towns like Austin and San Francisco.
"I don't think the Dallas investors are taking as much risk as these other places," Woods said. "They're justified; I've heard pitches that aren't very well thought out and presentations with questions unable to be answered. No one's admitting that a lot of the companies here aren't as mature as they should be."
Entrepreneurial immaturity aside, Black participants of Dallas startup culture live a slightly more challenging reality than their White counterparts, even when affiliated with one of the city's most prevalent names.
"I've dealt with my share of City Council members that didn't like me," said Leandre Johns, Dallas/Fort Worth general manager of Uber. "In general I've dealt with greater adversity due to expectations or bias that folks have where they assume that because of my race I can't articulate as well or generally aren't as smart as someone else."
These experiences aren't as isolated as the startup community might hope. This duty of proving oneself beyond the task at hand is a permanent fixture on the shoulders of the few Blacks in tech startups.
"I wondered if investors would trust a young Black man with their money, or if they'd trust my White cofounder with it. I considered making him CEO and making myself CTO [chief technology officer] instead," Woods said. "When we go into a meeting it's a game of who's going to do the talking and who's going to stay in the background; it's a real strategy for us because it's a real thing. People are more receptive to people like them."
A common solution offered to issues like these is diversity. Yet even before seeing the numbers on ethnic and gender inclusion, many notice a much larger percentage of White men in the industry. This modern-day "good ol'boys" club often relies heavily on referrals. Woods and his then CEO William Peregoy [now COO] couldn't just "walk into these meetings by themselves." After landing a coveted spot in Tech Wildcatters' 12-week accelerator program, they got the introductions they needed.