I'm No Fool: Introducing young minds to African culture, history
DIANE XAVIER | 8/31/2015, 7:35 a.m.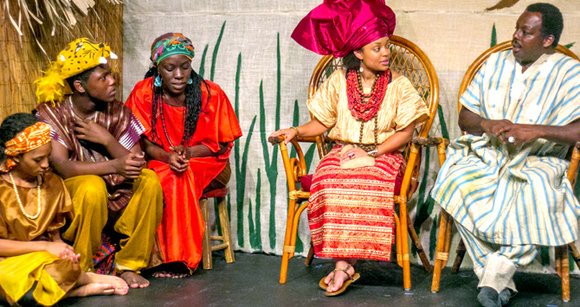 The Dallas Examiner
I'm No Fool! is an original play based on African folklore. Presented by the Roots for Youth African Children's Theater, the play presented the Yoruba culture of Africa in the English and Yoruba language and took place from Aug. 14 through Aug. 16 at the Act of Change Inc., Institute of Cultural Arts in Lancaster.
The drama was written and directed by local actress Renee Miche'al Jones, founder of Roots for Youth.
"Our mission is to bring our culture to the community," Jones said. "We do it through entertainment, classes such as Black Studies 101 and by bringing in speakers such as Omar Johnson. Our goal is that you have to know who you are and where you came from in order to know where your destiny is and where you are supposed to go. Because so many youth in our community don't know that information, it is our goal and our mission to provide the best way that we can."
She said she chooses one country out of the several countries in Africa and focuses on that country by finding someone from that culture, studying from them, and then relating that information to the children by teaching them through plays and classes.
It was founder and artistic director Baba Esudele Fagbenro's inspiration, faith and love of the African culture that initiated the development of the play, according to Jones.
"The Institute is 17 years old and Brother Esudele was always a part of it," Jones said. "He was a humble spirit and really an artist who believed in our culture. He believed in the African culture and in its power to elevate the community. The reason why this play has been a success and the reason that we had made it this far is because of his encouragement and support."
Fagbenro's students expressed appreciation for the time he spent with them and all that he taught them in preparation of the performance.
"He's been helping us this entire way with the play and he is a good person," said Qaadir Muhammad, a student of Fagbenro's and a 10-year-old at St. Philip's School and Community Center.
However, Fagbenro did not get to see the play that he had co-produced come to life. On July 30, the cultural center lost its leader after his vehicle crashed on the highway. Crushed by the news of Fagbenro's death, the group agreed that the show must go on in honor of his teachings' of history, culture and community.
Sulest Ballard, a graduate of DeSoto High School who studied under Fagbenro, shared her thoughts about the legacy the founder left behind.
"Being involved with this group allowed me to be a part of the community," Ballard said. "Everyone here is so united and this is something amazing to have in the middle of the city. Esudele pretty much gave me a cultural enlightment and helped me realize even more where we came from and the reason why we are supposed to be connected to our ancestors. In the short time I knew him, he made such a big difference in my life and now I want to learn more about our culture and where we came from even before slavery ever happened. And now, we give our reverence to him because he is our ancestor and he is with us every single day."