STEM mentoring camp for girls
DIANE XAVIER | 8/31/2015, 7:37 a.m.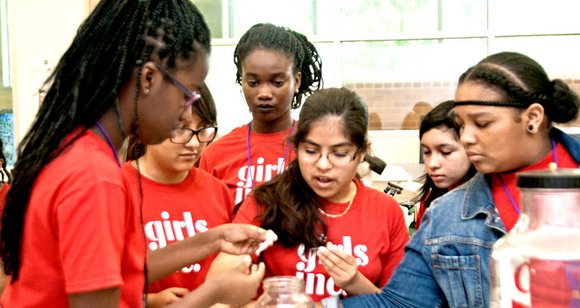 The Dallas Examiner
Due to a shortage of 3,000 engineers in the United States, the Department of Defense will have to stop work on certain projects, according to the June 29 issue of Engineering News and Review.
In order to tackle this issue and prepare the next generation of leaders in engineering, math, science and technology, Richland College partnered with Girls Incorporated of Metropolitan Dallas this summer and hosted EUREKA!, a four-week summer camp for middle school girls entering eighth grade that was held from June 22 to July 26.
"Girls Inc. of Metropolitan Dallas is a non-profit organization that works with girls ages 6 to 18 to inspire them to be strong, smart and bold," said Karla Loya, chief program officer for Girls Inc. "We offer after-school programming and summer programming and this summer, along with our regular summer camps, we had our first EUREKA! summer, which is a STEM-based program which takes place in college campuses throughout the Metroplex."
Girls who participated this year will continue the program for the next five years until they graduate from high school.
"We want to introduce girls to careers in the science, technology, engineering and mathematics field and we want them to know what their opportunities are," Loya said. "Girls are underrepresented in careers in STEM, especially minority girls, and we want to change that trend. We start them young before they get to high school so that they can be ready and successful."
The camp started at Richland, went on to the University of North Texas at Dallas, and then the University of Texas at Dallas. It concluded at Cedar Valley College with a closing ceremony that featured a rocket launch.
During the camp, the 23 local students participated in workshops such as "Water: Ubiquitous and Unique," 3-D art, learning strategies, college readiness and communication skills. They also had an opportunity to learn and shadow professors and professionals in the field of STEM.
"They've done robotics, microbiology, rockets, physics and hula-hooping projects," Loya said.
For many of the girls, this was a life changing experience.
"At this camp, I learned how to build rockets and interact with my peers better," said Dasia Edwards, a student at Lancaster Middle School, who stated that the camp led her to pursue an interest as a musical engineer.
Parents of the camp participants were excited about what their daughters learned during the summer. For some, it was a rare opportunity.
"My daughter was exposed to robotics, biology, chemistry and physics, things she would not be normally exposed to," said Cindy Alexander, whose daughter attended the camp. "She was super excited about learning and got to do DNA testing. This is stuff that they don't get to see in a general public school anymore."
The camp focused on engaging the girls and exposing them to male-dominated math, science, technology and engineering occupations so that they are aware and want to pursue careers as engineers or mathematicians, according to Dr. Bernine Khan, University of Texas at Dallas Assistant Dean of the school of Natural Science and Mathematics, one of several professors who worked with the students in the camp.
"I learned about fractions, chemistry projects and also got to experiment with nitrogren," said Mia Gonzales, a student at St. Monica Catholic School. "It was a good opportunity to learn about different things and other careers and gave me an idea of what I would like to do when I grow up."
Dr. Sherry Dean, Richland College professor of speech communications, said the program would nurture and prepare the girls for the next five years and help them with the college application process.
"We will nurture them through high school graduation and help them secure successful higher education pathways in a STEM major," Dean said. "By the time these girls graduate, they will have both the knowledge and confidence to pursue a career in STEM We know that a lot of girls are interested in math and science fields, but a lot of them tend to drop off in terms of that interest as early as eighth grade. We want to empower girls to pursue that interest but more importantly give them a safety net and framework where they can experience success."