Dallas Cowboys lose eighth game of season
DIANE XAVIER | 12/7/2015, 9:37 a.m.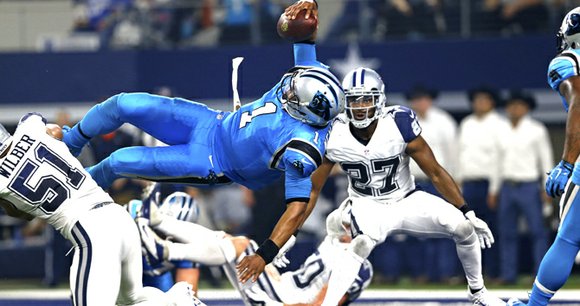 The Dallas Examiner
It was not a Happy Thanksgiving for the Dallas Cowboys as the team lost their eighth game of the season, losing to the undefeated Caroline Panthers, 14-33, on Thanksgiving Day.
Cowboys quarterback Tony Romo reinjured his left collarbone during the third quarter and is out for the rest of the season. Before the injury, Romo struggled during the game, throwing three interceptions.
Panthers free safety Kurt Coleman intercepted Romo on the Cowboys' first offensive series and returned the touchdown for 36 yards, giving the Panthers the early lead 7-0 in the first quarter.
The Cowboys continued to struggle offensively throughout the game, scoring only 14 points.
Cowboys head coach Jason Garrett talked about the struggles they faced during the game.
"They're a really good football team and you have to give them credit," Garrett said. "The best thing they do is take the ball away. I think they had 25 takeaways coming into this game. It's a big part of the formula for the one that they have. They've had a lot of those plays. Interceptions – interceptions that set up scores, and interceptions that go back for scores. It was a big point of emphasis for us. But it's been a big point for why they've won 11 games this year; they finished last year with four wins. It's a key to their success and they're good at it. Obviously Tony's decisions we'll go back and look at. A combination of probably a little pressure up front, maybe a little aggressive down the field with the football. We'll go back and take a peek at them. I give Carolina a lot of credit, but those were the significant plays of the game. Our turnovers gave them 17 points, and we can't do that against a football team like that. Their 10-0 for a reason, coming into a ball game, and we you have to play a clean game. We didn't do that today."
Offensively, the Cowboys gained only 210 yards. Carolina's quarterback Cam Newton dominated the game with 183 yards passing and 45 yards rushing.
"We got a lot help from our defense," Newton said. "The defense brought their A-game today, and made our job a lot easier. Just have to find ways to finish in the red zone. But yeah, a performance like that by our defense makes everybody's job easy. It was big for us to feel the support. We knew Dallas; they always have a pretty good fan base, but to see the Carolina Blue and Black reign supreme at the end of game meant a lot."
Defensively, the Panthers were led by middle linebacker Luke Kuechly, who had two interceptions, back to back, stopping Romo and the Cowboys offense from getting in the end zone.
"It's exceptional for Luke Kuechly to get picks on back-to-back plays, for the defense to get an interception early," Newton said. "Kurt Coleman kind of opened the floodgates and put everybody at ease. We had a short week; no one cares about that but yet, guys making plays when their number is called. Like I said, Kurt Coleman has been doing it all year. Luke's been doing it all year. Just to get guys back healthy. It was great to see Chuck out there. It was fun."