False arrest leaves contractor homeless
MIKE McGEE | 12/7/2015, 10:23 a.m.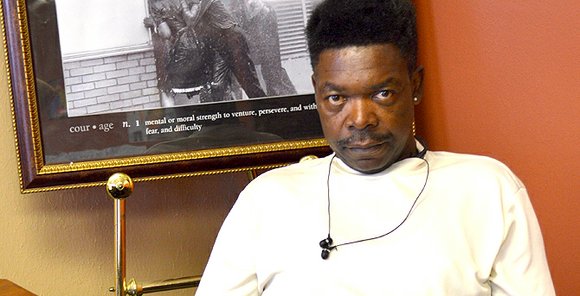 The Dallas Examiner
"You have been in jail, I believe, long enough to probably have served a two- or three-year sentence," Garland resident Seroy Flowers said Judge Jeanine Howard, Criminal District Court 6, told him before dismissing a case brought against him.
After spending almost a year in the Dallas County Jail, Flowers has been struggling to start over again.
"What I deal with in an average day now is trying to stay alive," said Flowers, 56, as he sat in the office of Rev. Peter Johnson in Oak Cliff Tower. "I'm homeless. I live on the street. Thank God, and Peter, they help me rent a hotel room every once in a while."
Flowers is a general contractor with a degree in architecture. He moved from California last year to expand his property repair business.
"What I do for a living is, I buy old homes and flip them," he explained. "That's what I'd come to Dallas for."
The businessman described how a disagreement over a towed car at an apartment complex on North Buckner Boulevard led to his life being dismantled.
The beginning of the end
The incident occurred last fall when Flowers said he applied to get an apartment-parking sticker for his vehicle. He noted that he was given temporary paperwork to place on the dashboard of his car until a permanent sticker was available.
He had previously dealt with a vehicle getting removed by Longhorn Wrecker from his sister's apartment property, in which he stated "I had took them to court."
But the night of Oct. 19, 2014, was different. Flowers said that he was in his apartment preparing to get some sleep before starting work on a home the next day, when his girlfriend, Tracie Garrett, alerted him that the same towing company was in the process of removing his car.
By the time Flowers got dressed and made it to the parking lot, the wrecker and his car were gone.
"The police department informed me they couldn't do anything about that because it was on private property," he said as he described a 911 call he made.
Afterward, Flowers approached Gary Amburn and another security officer patrolling the complex and asked why they allowed the towing company to remove his car.
"We didn't see a sticker on the car," one guard replied, according to Flowers.
Flowers said that when another towing vehicle from the company arrived he approached the driver about his missing automobile.
"Well, you've got to pay me to get it back," Flowers claimed the driver, Dax Catechis, told him. Flowers continued to protest. He then alleged Catechis said at one point "I'll charge you up."
Flowers noted the driver then started looking under his seat. Not knowing if he was looking for paperwork or a weapon, the resident walked away to a space between two vans where his car had originally been.
"I'm standing there dialing 911 because I don't know what this guy was doing," Flowers recounted.
In a Prosecution Report on Incident #252342-2014, investigating officer Michael Mendez noted the following occurred next: