Students insist SOC is hazardous
DIANE XAVIER | 12/21/2015, 10:50 a.m.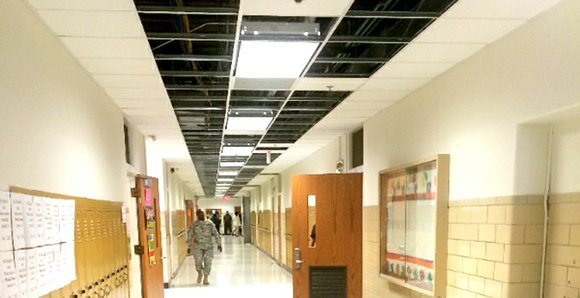 The Dallas Examiner
Gas leaks, leaking roofs, classrooms that are too hot or too cold and bad food leave students feeling neglected and that the Dallas ISD and the city of Dallas just doesn't care about them.
Students at South Oak Cliff High School said these are the conditions they have had to deal with on a daily basis for several years. After years of suffering, hundreds of students at SOC had enough and staged a walkout protest at 3 p.m. during school on Dec. 7.
Senior David Johnson, a quarterback on the high school football team and a member of the Mayor's Star Council, led the protest. He sent an announcement to the media to help get the message out.
"The purpose of our assembling is to expose to our school board and city of Dallas, the horrible conditions of South Oak Cliff, where we attend," he wrote. "The building leaks … the building is cold and damp … parts of the building have classrooms with unbearable heat because the temperature cannot be regulated. Students have to be instructed in hallways instead of regular classrooms. Students have taken ill because of the temperature extremes. When it rains, the roof leaks terribly … the hallways are riddled with buckets."
During an interview, Johnson said these problems have been going on since he was a freshman.
"This past year has been the worst," he said. "In the hallways, there is no ceiling and they have been working on that since the end of last year. When we came back to school this fall, it looked the same as we left last year for summer break. It makes me question 'What have you been doing all summer?' When it rains, it rains so bad that it leaks and it leaks so bad that the roof from the tiles fall."
Johnson went on to say that he has witnessed some of his peers pass out due to the extreme hot temperatures on certain days. Also, another student said that she witnessed a girl bust her head from falling down due to the leaking roofs and wet floors.
Johnson said SOC alumni have addressed the situation with Mayor Mike Rawlings. Rawlings responded that they needed to speak with the Dallas ISD School Board members.
"The school board has not done anything," Johnson said. "We decided to take a plan of action by protesting because we are the ones that have to go through these conditions."
Dallas ISD Superintendent Michael Hinojosa held a previously scheduled community meeting with parents on Dec. 7. During that time, he briefly discussed the building conditions with concerned parents.
"After talking to Hinojosa, they are keep going to do the same thing that they have done before, which is to try and put in money to temporarily to fix things," Johnson said. "I feel like that they don't care about us as much as we should be cared about."
Johnson is among several students, along with parents and alumni, who feel the best solution is to build a new SOC school. However, Dallas ISD officials have said that will not be happening, at least for another year.