Students insist SOC is hazardous
DIANE XAVIER | 12/21/2015, 10:50 a.m.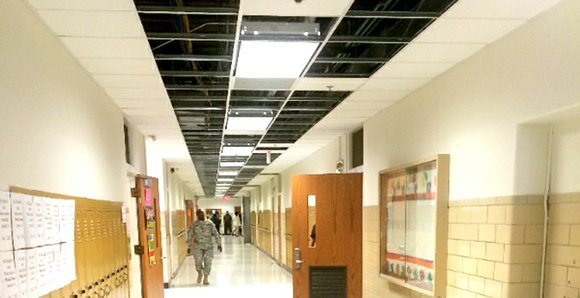 In November, Dallas voters approved a $1.6 billion bond for the school district, of which the district said $13 million would go toward renovations for SOC.
Furthermore, Dallas ISD spokesperson Andre Riley does not believe the school is in poor condition.
"South Oak Cliff High School is a healthy and safe environment for students to attend school," Riley said. "In order to replace the heating and cooling system, upgrade it, and make it more efficient and reliable, we had to remove the roof panel in the hallways at the school so we can access the piping and wiring. This has not created an unsafe or unhealthy environment for students, but we recognize that this is not ideal, especially aesthetically to conduct this project. Students have also complained about the regulations of the temperature which is something we are working on and hope to have completed before February 2016."
But safety is an issue according to students who stated that the school also had a gas leak right after the Thanksgiving holiday.
"They didn't tell our parents and didn't even evacuate the school," Angelica Scuriy said. "We stayed in there and we were supposed to leave. I'm a freshman and I just got here. I want to go to a school where I can learn. It's just not about bare ceilings, it's about the environment and in order to learn you have to have a good environment to learn in. That's why there was a protest, because we feel like we are not being treated right."
There is a long list of complaints among many of the students.
Treveon Washington, a sophomore, said there's one word that describes the situation he and his classmates are in.
"It's prison," he insisted. "It's that bad because the ceiling is messed up, the food is horrible, and they don't care about education. We have teachers that walk out of class, teachers that come to school every other day and we have classes with permanent subs. I blame former Superintendent Mike Miles for the situation that we are in and not Michael Hinojosa because he wasn't here most of the time that we have had to go through these problems. The school board members haven't done anything. How can they help out Lake Highlands and other high schools but when it comes to our neighborhoods, nothing is being done?"
The young leader expressed his disappointment that Dallas ISD Trustee Lew Blackburn, who represents his district, hasn't done anything to address the issues they face.
"I don't see what he has done in our community, with our school in particular," Johnson said. "It also bothers me that we have had four principals in four years. How can you create change when you are inconsistent with your leaders? Also, I disagree with the statement from DISD that our school is a safe place to attend. Those people are on the outside looking in. They don't experience what we experience. We are considered a low-performing school but we also have low-performing conditions that we are in. We are going to continue to do whatever it takes and whatever we can to get what we need. We deserve better."