Churches, mosques focus on security
JAY REEVES and RACHEL ZOLL | 12/28/2015, 10:50 a.m.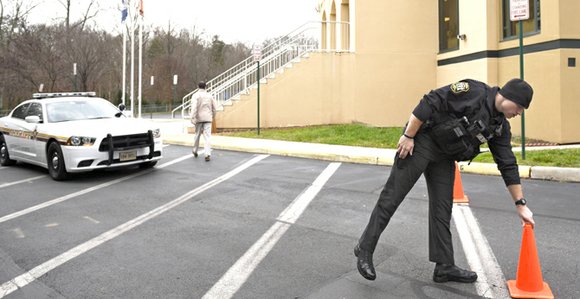 BIRMINGHAM, Ala. (AP) – In Alabama, a Presbyterian church wanted to be able to hire its own police for protection. Mosque leaders around the country are meeting with law enforcement officials as an anti-Muslim furor fuels arson attacks and vandalism. And the Federal Emergency Management Agency has been holding specialized training for congregations for "all hazards, including active shooter incidents."
Religious congregations across the United States are concentrating on safety like never before following a season of violence, from the slaughter unleashed in June by a White shooter at a historically Black church in Charleston, South Carolina, to the killings this month in San Bernardino, California.
The Council on American-Islamic Relations said 2015 is shaping up as the worst year ever for U.S. mosques, amid the backlash to the Islamic-extremist attacks in Paris and San Bernardino, and the intensifying anti-Muslim rhetoric from Donald Trump and others seeking the GOP presidential nomination. Preliminary 2015 data collected by the civil rights organization found 71 reported cases of vandalism, harassment and threats, with 29 of those incidents occurring since the Nov. 13 assaults in France.
The Anti-Defamation League, which works to secure Jewish sites, has been organizing safety training around the country with other faith groups, including an Austin, Texas, event with local police and the African Methodist Episcopal Churches of Greater Austin that drew participants from 35 churches and three mosques. The Charleston church attacked in June, Emanuel African Methodist Episcopal Church, is part of the national African Methodist Episcopal denomination.
Christian churches have been refining their security plans ahead of receiving some of their largest crowds of the year for Christmas. On a FEMA webinar last Wednesday on protecting houses of worship, the chief security executive at The Potter's House, the Rev. T.D. Jakes' megachurch in Dallas, gave tips about behavior that should raise concern, such as a congregant arriving in a long coat in hot weather. If needed, church greeters could give a hug and feel for weapons, said the executive, Sean Smith.
"I call it the Holy Ghost pat-down," Smith said.
Congregations and other religious sites have long been targets of violence and vandalism, especially African American churches going back at least to the Civil Rights Movement. In 2007, a young man on a shooting spree killed two people at an evangelical ministry and two more at New Life Church in Colorado Springs, Colorado. In 2012, a White supremacist killed six people at a Sikh temple in Oak Creek, Wisconsin. And last year, a White supremacist killed three people at a Jewish Community Center and retirement home in suburban Kansas City.
After the Sept. 11, 2001, attacks, Jewish groups led an effort that persuaded Congress to provide grants through the Department of Homeland Security to improve protection of congregations. Even so, a 2013 poll by the Barna Group for Brotherhood Mutual Insurance found nearly 60 percent of Protestant churches nationwide did not have a formal security plan for worship services.
Now anxieties over security are reaching a new level with national attention focused on mass shootings and terror threats, renewing debate about how far congregations should go to protect themselves given the religious imperative to be open to newcomers.