Initiative to support UNICEF in West Africa to launch next month
Black PR Wire | 2/2/2015, 3:15 a.m.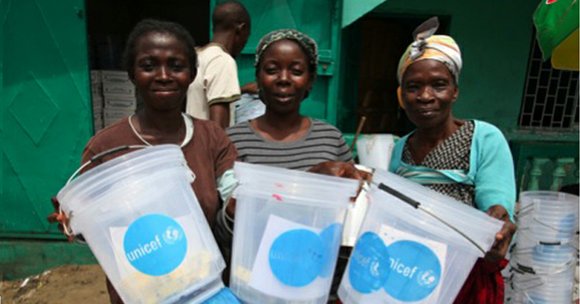 NEW YORK – The U.S. Fund for UNICEF recently announced a new partnership to combat Ebola with a consortium of noted faith-based leaders who head up some of the largest African American churches and religious organizations in the country.
The joint initiative, I AM #STOPPINGEBOLA, will launch during Black History Month and aims to raise funds in support of the United Nations Children's Fund's work to halt the spread of Ebola in Liberia, one of the West African countries hardest hit by the virus.
"We are thrilled to join forces with the heads of African American religious groups in the fight against Ebola. These leaders have stepped up to the plate at just the right time. Global attention on the crisis is fading, but children and their families in West Africa still need our support," said Caryl Stern, president and CEO of the U.S. Fund for UNICEF.
From Feb. 1 through Feb. 28, faith leaders representing churches with more than 11 million members will encourage their congregations to donate toward the purchase of hygiene kits critical to protecting children and families from Ebola. Each hygiene kit costs $43 and contains soap, chlorine, gloves, buckets, and other much-needed items.
The kits will be distributed across Liberia in areas affected by Ebola. The disease has infected more than 21,000 people and claimed over 8,000 lives in West Africa. More than 11,000 children have lost one or both parents due to the virus.
"Every donation, no matter the size, helps save lives. We are grateful to everyone who donates and shares the message that with enough resources, Ebola can be stopped," added Edward G. Lloyd, chief operating officer and chief financial officer of the U.S. Fund for UNICEF.
Members of the Faith-Based Leadership Consortium include Dr. Calvin Butts, the pastor of the Abyssinian Baptist Church in New York City and the president of the State University of New York College at Old Westbury; Bishop Charles H. Ellis III, presiding prelate of the Pentecostal Assemblies of the World Inc.; Dr. Williams B. Moore Chairman, chair of the Foreign Relations Committee, National Baptist Convention USA; Dr. James C Perkins, 20th president of the Progressive National Baptist Convention Inc.; and Bishop P.A. Brooks, first assistant presiding Bishop on the presidium of the Church of God in Christ Inc.
"Hygiene is the first line of defense for children and their families against Ebola," Butts said. "We are looking forward to galvanizing our community during Black History Month to learn more about Ebola and help save lives in Liberia."
From the outset, UNICEF has been on the frontlines in Ebola-affected countries in West Africa. It is the lead organization conducting lifesaving awareness campaigns and is providing massive quantities of medical supplies, tents, hygiene kits and protective equipment in Liberia, Sierra Leone and Guinea. UNICEF is also caring for children affected by Ebola in treatment facilities and in their communities.
Key officials from the fund irst met with members of the Fconsortium in December.
The fund supports UNICEF's work through fundraising, advocacy and education in the United States. For more information about the initiative, visit http://www.unicefusa.org/iamstoppingebola.
"Along with my other distinguish friends in the Faith-Based Leadership Consortium, I am honored to work with the U.S. Fund for UNICEF to assist in providing hygiene kits where they're most needed," Ellis added. "It's gratifying to know that our efforts to help stop Ebola will make a meaningful impact in communities that are still vulnerable to the disease."