Community Conversations on the IMPACT of our history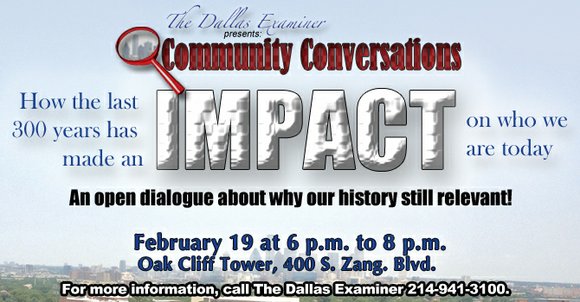 The Dallas Examiner will host its next Community Conversations on Feb. 26.
It's not a forum. It's not a lecture. It's not a workshop. It's a conversation with the community regarding issues of concern for the African American community.
This month, the topic is: The IMPACT of our history on who we are today. Each generation has their own unique qualities that they have brought to our culture, yet at the same time, we have all pulled from the same past to become who we are now.
How has the African American journey affected you? What can we learn from it? How can we use it to improve our community and ourselves? And what will we contribute?
The conversation will be held in the conference room in the lower level of the Oak Cliff Tower, located at 400 S. Zang Blvd.
This conversation is past due!
For more information, call The Dallas Examiner at 214-941-3100.