Delta Sigma Theta celebrates founders' day
JESSICA NGBOR | 2/9/2015, 7:46 a.m.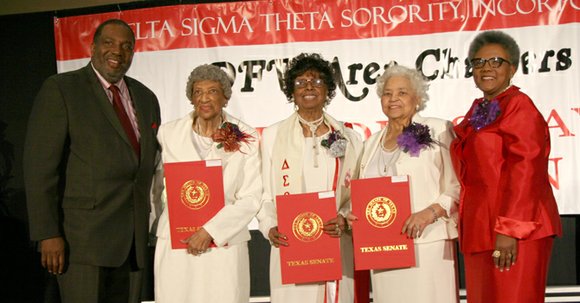 The Dallas Examiner
Delta Sigma Theta Sorority Inc. was founded by 22 African American collegiate women on the campus of Howard University on Jan. 13, 1913. Since then, the sorority has dedicated 102 years to service by creating programs to improve political, education, social and economic conditions.
On Jan. 24, the sorority's Dallas/Fort Worth chapters organized a luncheon to celebrate its founders and honor its members who have dedicated years of services.
Themed "Forward in Honor of Our Founders, Forward for Our Future," it was hosted by Suzzanne Douglas, an actress, singer, producer and an honorary member of the sorority. The event featured music sections by recording artist CeCe Godbolt and a special presentation tribute performance by the collegiate sorors.
Mae Cora Peterson was honored at the luncheon as being the oldest active sorority member in the Metroplex, dedicating 80 years of service in the organization. She was initiated her first semester of her sophomore year on Nov. 12, 1934, to the Alpha Zi Chapter at South Carolina State University. She was part of the first pledge club at the only public Black university in the state.
Peterson recalls reading publications such as The Chicago Defender and The Pittsburgh Courier about Delta and had high ambitions to become one, especially after her older sister joined the sorority.
Peterson served as the executive director of the Forth Work branch location of the Young Women's Christian Association, a teacher for the Fort Worth Independent School District and a dean of girls at Paul Laurence Dunbar High School. She has served on several Delta committees and believes the sorority has done a lot for her.
"It showed me through its activities in the community the value of organized participation," Peterson said.
Julia Jordan was the 75-year honoree. She was initiated in 1940 to the Alpha Iota chapter at Wiley College. Though her sister was a member of Zeta Phi Beta Sorority Inc., Delta was Jordan's ultimate decision.
"I was very impressed by the Deltas. They were all very smart and all kept a B+, A GPA," Jordan said.
She worked on the committee that brought television to Dallas and won the Invaluable Service Award with Links Inc. She was the director of Student Services for the Dallas Independent School District where she said 13,000 children had crossed her desk.
She has been heavily involved with Delta. She served as the vice president, as well as dean of pledge of Alpha Iota while at Wiley. She has served on many other committees and is now part of the Dallas Alumnae chapter and a life member of the sorority.
She recalled her most memorable Delta moment as the moment she crossed with ladies who have now been friends for over 30 years. Her chapter continues to grow with now over 400 members, where it originally started with only 18.
The 70-year honoree was Ola Comins, who was also initiated to the Alpha Iota chapter at Wiley College, but in 1944.
"I was impressed by those young women on campus, they were all education leaders and I knew I wanted to be part of that," Comins said.
She is a retired Dallas Independent School District educator of 33 years and also worked with the Red Cross. She was awarded Great Retired Teacher for the State of Texas and Southwest Region of Delta.
"The sisterhood and the fellowship is wonderful. It is a lifetime commitment that I have been true to for 70 years." Comins said. "Delta has made me proud to be a Black woman."
She has continued to be part of the organization by being the Convener of the Odyssey, chair of the Conflict Resolution Team and part of the Regional Program Planning and Development. She also traveled to Panama to charter a chapter there.
"There are opportunities now that we did not have. We have been instrumental and now the sisterhood has grown global," Comins said.
Members who have served 25 and 50 years in the organization were honored as well as graduating seniors from Texas Women's University, Texas Christian University, The University of Texas at Arlington, Paul Quinn College, The University of Texas at Dallas, Texas A&M University-Commerce and The University of North Texas.